How To Dye Easter Eggs
You will need:
A dozen eggs
Either one packet of Easter Egg Dye -or- The skins from 15 yellow onions.
Vinegar
Some old pantyhose (clean)
Some small leaves
I used (starting at the top and going clockwise) cilantro, parsley, bamboo, geranium, japanese maple, and dill. In the very center are a couple of vetch leaves. I had the best luck with cilantro and dill. The japanese maple and vetch were pretty good too.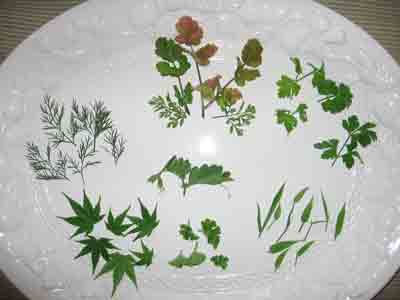 If you are using a packet of purchased dye, start by hard boiling your eggs. My packet says, "Boil the desired eggs and let them cold."
If you are making onion skin dye, start by boiling the onion skins with 4-6 cups of water and a few tablespoons of vinegar for at least half an hour. Then cool to room temperature and strain. Here's a link to the dye recipe I used: How To Dye Red Eggs with Onion Skins for Greek Easter. When I told Zoe I wanted to dye Easter eggs using onion skins, she yelled, "What is this, the fifteenth century?" Apparently Mama uses the commercial dye.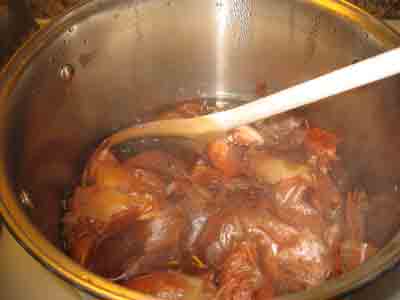 Tie a knot in a pantyhose leg, then cut about 6 inches from the knot. If you're at the foot of the pantyhose, you don't need to make a knot, just cut about 6 inches from the toe.
Dear Mama,
Today I took a pair of scissors and cut up all your pantyhose.
I'm very sorry.
Love,
Lulu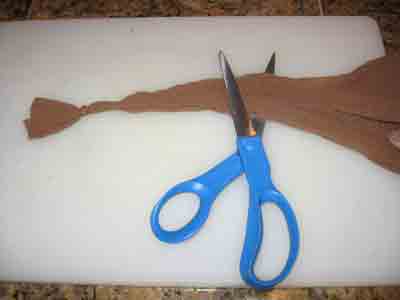 Tuck an egg (boiled if using dye packet, raw if using onion skins) and a couple of leaves into the pantyhose segment. Try to get the leaves nicely fanned out. And don't put too many leaves, just a couple of small ones, because you want most of the egg to be red. Zoe kept telling me this and I didn't listen, but she was right!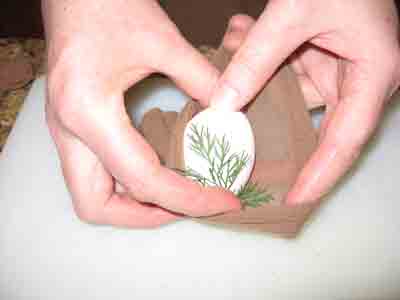 Twist the open end of the nylon so that the egg and leaves are tightly enclosed, then tie off the end. When you do this the leaves will shift around and end up in a blob, so you'll have to reopen the nylon and poke the leaves around. Then this will happen again. And again. And again. Ti na kanoume?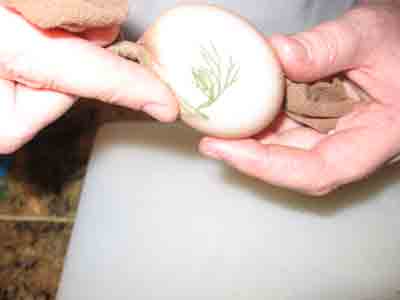 Here they are, all tied up: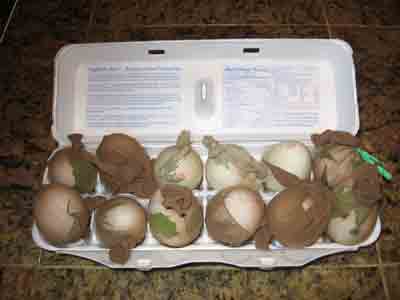 If you are using the onion skin dye, put it in a pot and add the eggs. They should be in single layer, covered completely by the dye. Bring to a boil and boil for 10 minutes. Some people say to boil them longer, but I like the eggs to still be edible afterwards! When the 10 minutes are up, turn off the heat and let the eggs cool in the dye. I actually let them soak in the dye overnight, and as you'll see, they got plenty of color without longer boiling.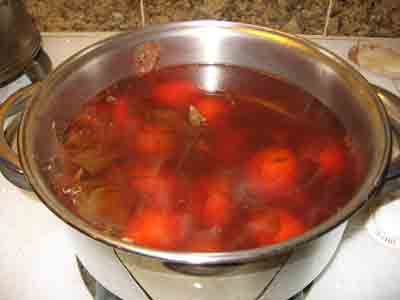 If you are using a dye packet, follow the directions at this point. Don't forget to add the vinegar like I did, because your eggs will barely even turn light pink. I thought there was something wrong with the dye, then I remembered the vinegar and added it. Whomp! Red eggs! Note that the dye only takes "2-5 minutes the maximum."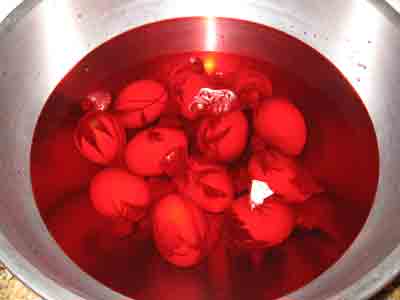 Whichever method you're using, when the dyeing period is over, fish the eggs out of the liquid and dry on paper towels, then unwrap. A lot of mine had blobby unattractive leaf prints, but I still thought they were beautiful! Here's a shot of the best of them. The brown ones were colored with onion skins and the red ones with a dye packet.