Wild Mustard Greens (Vrouves)
The first time I went vrouves-picking with Mama, I confidently assured her that I knew which plants were the mustard plants, and went off into the middle of a good patch. I quickly filled my bag with mustard leaves, and went to show Mama. "What are you doing?" she yelled at me. Then she grabbed my bag from me, and turned it upside down, dumping out the contents. When she calmed down she was able to explain to me that it wasn't the mustard leaves we wanted, but rather the unopened flower buds. So I took my bag back into the patch and started picking the little green buds. It took a lot longer to fill my bag this time!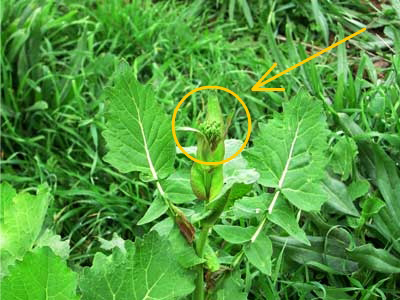 They're not that easy to spot in the midst of the green leaves! You can see them better below. To pick them put your hand over them and grasp the stem a bit below the bud, then bend it sideways to snap it off. If the bud is really small, the shoot will be mostly leaves, but that's okay.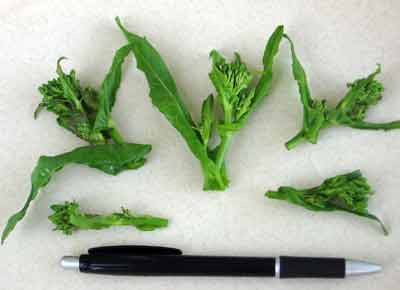 Here's the field (i.e., vacant lot) where I got the vrouves. It was a blaze of mustard yellow last spring, which is how I found it. People had built houses on my old vrouves field (how dare they?!?) so I was keeping my eyes open for a new one. Unfortunately, by the time I found it, it was too late, and all the flowers were opened. Once opened they're no good.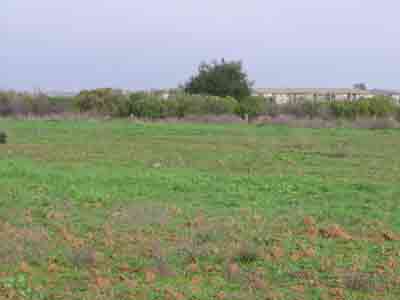 The field is mostly mud right now, but the lush spring growth is well begun. Picking vrouves tends to involve slogging through a lot of mud, because they are at their best within a couple of days of a good rain.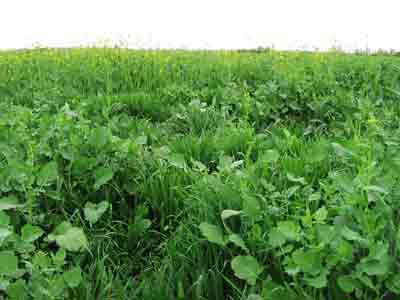 When you have enough, or your back feels like it's breaking from stooping over, take your greens home and wash them well. Put them in a sink full of water and gently mix them up to help the grit come off. Let them soak for a few minutes, then lift them out of the water (into a large colander, large bowl, or the other sink if you have a double sink) and drain the water. The bottom of the sink will be full of the mud you just wore yourself out slogging through. Rinse the sink and refill it, add the greens and repeat the process. Keep repeating until no more dirt shows up on the bottom of the sink. I usually do one more rinse after this one to make sure, because there's nothing worse than biting into grit. This is a total of anywhere from three to six sinkfuls of water.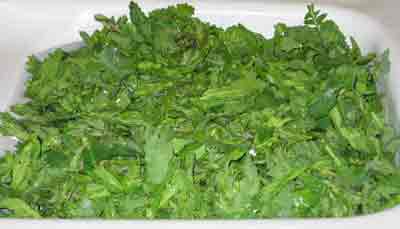 While the vrouves are soaking, put a big pot of salted water on the stove to boil. When the vrouves are clean, start putting them into the boiling water.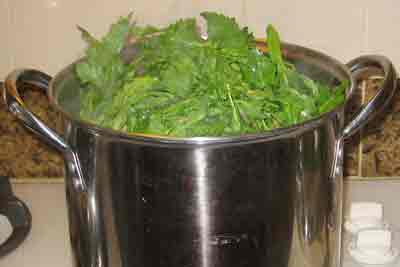 They may not all fit at first, they'll soon wilt and you'll be able to push more in.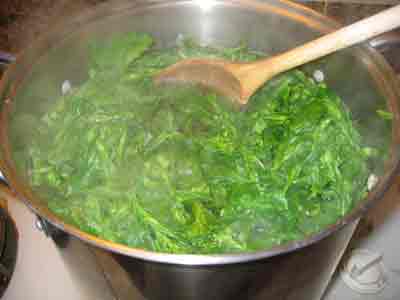 Cook them until they are done to your preference. This batch was done in about 15 minutes after I put them into the water. Drain in a colander (or two).
Dress with lemon juice and olive oil. Add salt to taste. Do not dress any portion that you plan to refrigerate or freeze for later. Yes, these freeze nicely!