Aunt Lori's Braised Greens (Lahanika sto Fourno a la Theia Lory)
Last time Mama returned from Greece, she brought with her this recipe for a wonderful dish she'd had at her sister-in-law's house. If you want to be eating greens, but aren't sure you'll like them, this is the place to start. It's a very easy recipe, but you have to allow plenty of time for all the washing and slicing of greens and herbs. Once that's done it comes together fairly quickly.
Ingredients
2 onions, chopped
3 leeks, cleaned well and sliced
1 bunch scallions, sliced
1 bunch dill, sliced
1 bunch white chard, washed and sliced (if the stems are big and thick, I separate them from the leaves, slice thinly, and add them at the same time as the leeks)
1 bunch spinach, washed and sliced
3 big tomatoes, diced
feta cheese (optional)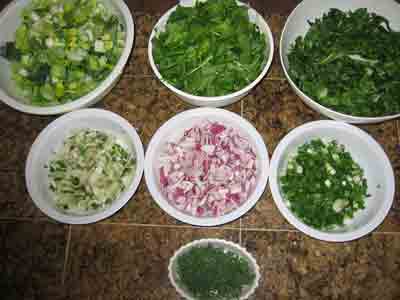 Heat 1/4 cup olive oil in a large pot or dutch oven.
Sauté the onions for about 5 minutes.
Then add the leeks, scallions and parsley (and possibly chard stems) and sauté for 10 minutes more
Add the chard to the pot and cover with the lid. Give the chard a few minutes to wilt down so that you have room for the spinach.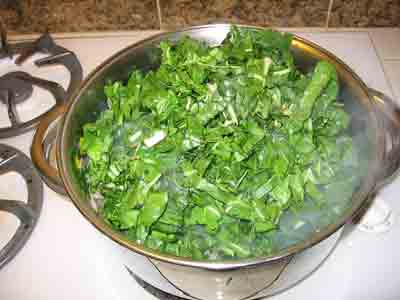 Take the lid off and give the pot a couple of quick stirs, then add the spinach. Put the lid back on and give the spinach a few minutes to wilt down. Take the lid off, add the tomato and stir it in. Also add some salt and pepper. Simmer for about 10 minutes with the lid off.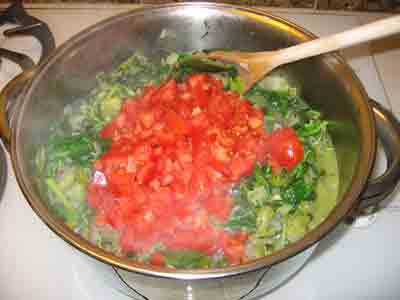 Put in baking pan, put some chunks of feta on top. (I like to grate the feta.)
Bake at 350 for 20 minutes
Mama's Variation:
Finish under broiler for 5 minutes.
Vegan/Nistisima Variation:
Omit the feta. It will still taste great.