Calamari Cooked in Wine (Kalamarakia Krasata)
Last time we cooked kalamarakia, I insisted that the squid be cooked very quickly in very hot oil to keep it tender. It doesn't take long for squid to become rubbery. But in today's recipe we will cook the squid over a moderate flame and it will cook for quite a while. Don't worry, this won't turn into a jaw exerciser. Although squid does get tough quickly, it then softens up when cooked slowly for a long time, and that's what we do in this recipe.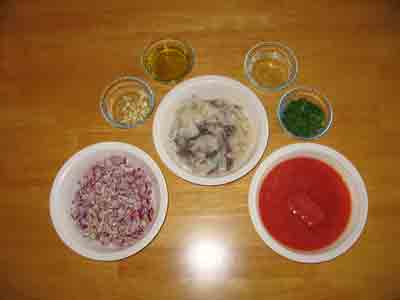 Ingredients
1 pound squid, cleaned and cut into bite-size pieces
1 lb tomatoes, grated, or a 14.5 oz can of diced or crushed tomatoes
2 medium onions, chopped
2 cloves garlic, chopped
1 bunch parsley, chopped (about 1/2 to 1 cup after chopping)
1/3 cup olive oil
1/2 cup white wine
1/4 tsp salt
1/4 tsp pepper
Cooking Directions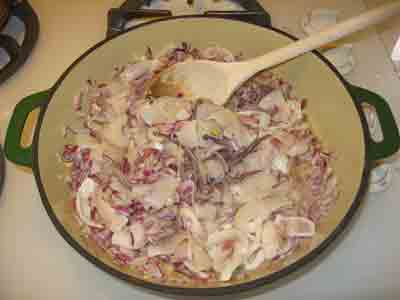 Heat the oil in a skillet or dutch oven, then saute the squid with the onions and garlic for about 5 minutes. Add the wine and boil until the wine has mostly evaporated, about 10 minutes, stirring and scraping the bottom of the pan occasionally.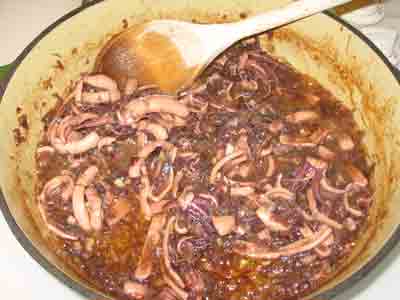 You'll probably have some of the flavorful brown stuff known as "fond" coating the pan. Add the parsley, tomatoes, salt and pepper. Stir them in and scrape the bottom of the pan to mix the fond into the sauce.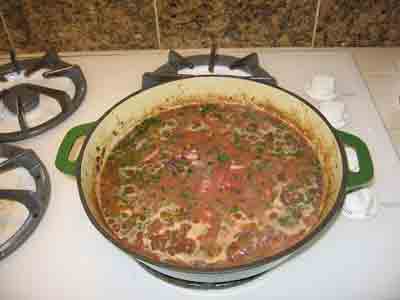 Simmer until the squid is soft, about 20-30 minutes. Adjust the salt and pepper to taste, and serve.