Orzo cooked in Tomato Sauce (Manestra)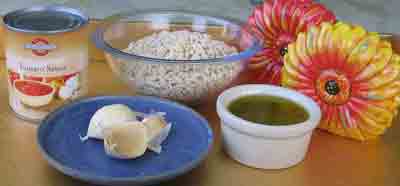 "Aman vre Lulu, you're not the first person to burn something!" But I was still upset; how could I screw up such a simple dish? And not just once, but three times in a row! I'll catalogue my mistakes here so that you can avoid them. Lulu's new motto: "Screwing things up so that my readers don't have to!" This is actually a great dish for a day when the cook is too busy to chop up a bunch of stuff; it's very easy. There's just a few things that can go wrong, and I've found them all for you!
Mistake #1 – Not cooking it long enough.
The package will tell you to cook the orzo for something like 12 minutes or so. I'm sure that's correct if you're cooking the orzo in a large pot of vigorously boiling water, but it's going to take longer in simmering tomato sauce. Plan on 30-45 minutes of cooking, and be sure to taste test. Don't do what I did, which was to eat a big blob of undercooked pasta and give myself indigestion before I finally admitted that it was undercooked.
Mistake #2 – Not using nonstick cookware
After the under-cooking incident, I made the dish again, using my green enameled cast iron Tramontina brasier. Why? Because it's pretty, it's photogenic, and it's green, my favorite color.
But it's not nonstick. So despite my continual stirring, the orzo insisted on sticking. It never burned, but eventually it stuck so much that I was afraid it would burn. I salvaged the situation by turning the heat off and letting it sit. After a while (half an hour or so) the stuck-on stuff on the bottom softened up and I was able to stir it up and turn the heat back on. So I finished cooking it okay, but of course I'd ruined my plans to give a recipe saying how long it would take to cook this.
Mistake #3 – Keeping the heat too high and not stirring often enough.
Ironically, although I just listed not using nonstick cookware as a mistake, I made the worst and least salvageable mess using nonstick cookware. I should have turned the flame down as low as it would go, especially given that I went off and got involved in surfing the web reading very important official emails from work, and didn't come back to stir for about 20 minutes. This time the stuck-on stuff actually burned, so in that sense my flimsy nonstick pot maybe wasn't as good as the enameled cast iron, but pick your own poison. Or better yet, stir! By the way, you'll see both pots in the photos.
Ingredients:
3 TB olive oil
2 or 3 cloves of garlic, sliced or chopped
1 8-oz can of tomato sauce
3 cans of water
1/2 pound (about 1 cup) of orzo or menestra
1/2 tsp salt
1/4 tsp black pepper
Cook It!
Heat the oil, then add the garlic. Saute the garlic until it's fragrant, just a few seconds, don't let it get brown or even golden.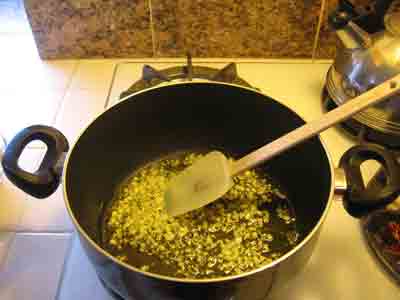 Add tomato sauce…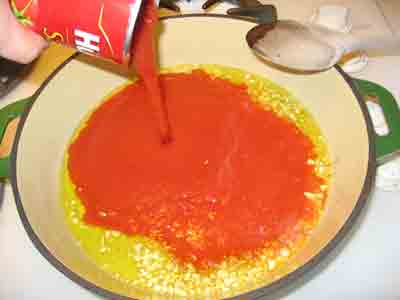 …and saute it for about 5 minutes.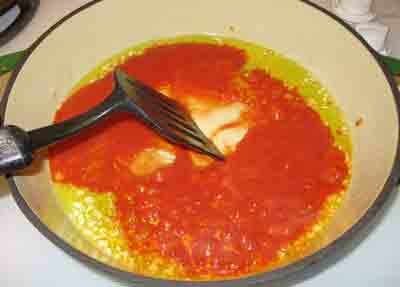 Using the empty tomato sauce can, add 3 cans full of water. Also add the salt, pepper and orzo. Stir!


Simmer over very low heat for about 45 minutes. Stir frequently! Serve with bread and feta on the side, or you can top the manestra with grated cheese.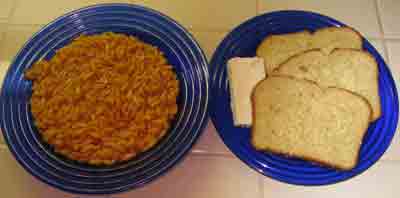 I am entering this recipe in this week's Presto Pasta Night, hosted by Hillary of Chew On That and originated by Ruth of Once Upon a Feast.