Mixed-Up Veggies (Tourlou Tourlou)
Tourlou Tourlou* (pronounced Toodloo Toodloo) is a baked vegetable dish with a suprising sweetness. I kind of don't want to reveal the source of the sweetness, because it comes from an ingredient many people think they don't like. I've even been asked if the dish has sugar in it, but the "sugar" comes from a vegetable, one that most Americans have only ever tasted undercooked. Undercooked, this vegetable has all the taste and texture of a sponge. But cooked well, this particular vegetable melts down into a creamy sweetness. It practically turns into honey. Which vegetable is it? Go ahead and look over the ingredients, I'll give you a minute.
?
?
?
Ingredients (Amounts are approximate, so suit yourself!)
3-4 zucchini, sliced 1/4 inch thick
3-4 banana or anaheim peppers, seeds removed, sliced 1/4 inch thick (probably equivalent to 1 or 2 bell peppers if you'd rather use those)
3 onions, quartered lengthwise and sliced
6 cloves garlic, sliced
3 large tomatoes, diced (about 1 to 1.5 pounds) or one 14.5 oz can of diced tomatoes including the juice
1 bunch parsley, washed and chopped
1 large eggplant. sliced 1/4 inch thick (or a few little eggplants, about 1 – 1.5 pounds)
3 potatoes (approx. 1 – 1.5 lbs), peeled and sliced 1/4 inch thick
1 cup olive oil
1 tsp salt
1/2 tsp ground black pepper
?
?
?
If you guessed it's the onions, you get partial credit for picking a vegetable that turns sweet when cooked. But that's not the correct answer. So, which vegetable is it that turns from a dry, tasteless sponge into a honeyed creamy substance? It's the eggplant! Yes, the eggplant!
*Tourlou Tourlou means "mixed-up."
You don't actually have to peel the eggplant, but Mama always takes off some strips vertically to ensure that nobody gets a big piece of skin.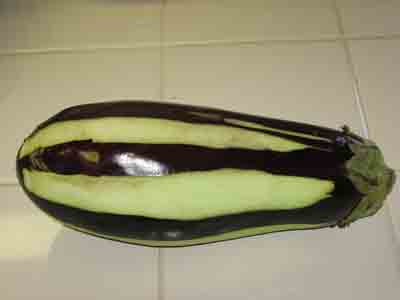 Pour about 3/4 cup of the oil into the pan, enough to coat the bottom well. Add the potatoes.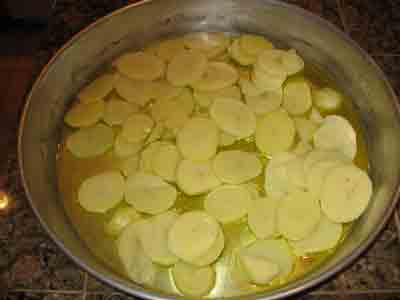 Add the eggplant.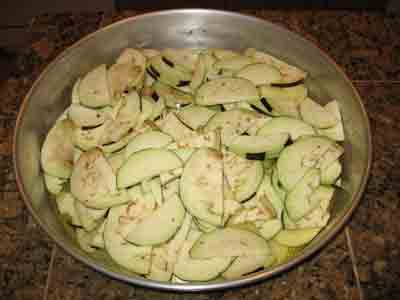 Layer in the peppers and zucchini.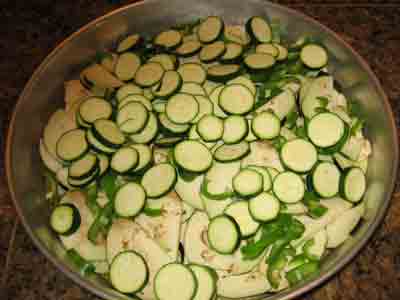 Sprinkle with onions and garlic.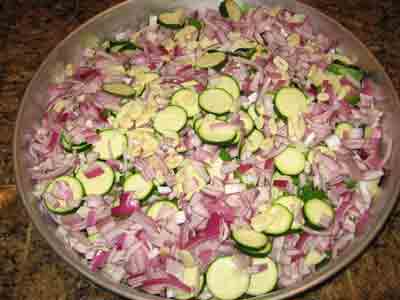 Top with tomatoes and then the parsley.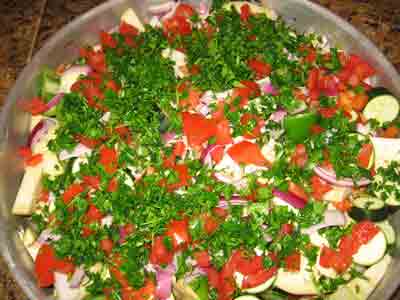 Sprinkle with the salt and pepper, then the remainder of the oil. If you used fresh rather than canned tomatoes, pour in a 1/2 cup of water. Put in a 450 degree oven and bake for 20 minutes, then turn the temperature down to 400 degrees, and cook for about one hour. Check occasionally while it's baking to make sure there's still some liquid in the bottom of the pan. If it gets dry or starts browning on the bottom, add 1/4 to 1/2 cup more water. (Mama says you can be adding V8 or tomato juice if you prefer.)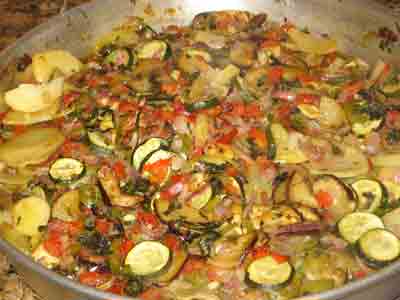 About 1/2 an hour before it's going to come out of the oven, gently stir it up a bit, to get the by-now-crispy parsley down into the moister areas to soften up and flavor the juices. How can you tell when the Tourlou Tourlou is done? When the potatoes and eggplant are very soft, it's done! Mama also likes to run it under the broiler for about 5 minutes at this point, but that is an optional step.