Lamb Fricassee (Arnaki Frikase)
What I made for Easter Sunday dinner – Lamb Fricassee, a stew of lamb and greens, flavored with dill and onion, thickened with the egg-lemon concoction known as avgolemono. Delicious!
Ingredients
6-8 lamb chops, approximately 1.5 – 2 pounds. Ideally they should be at least 1 inch thick. We like the ones with the little T-bone in them as opposed to the fattier shoulder chops. Trim them, salt and pepper both sides. In the picture below, the chops to the left have been trimmed of their excess fat. This dish is rich enough without having a bunch of extra fat in it.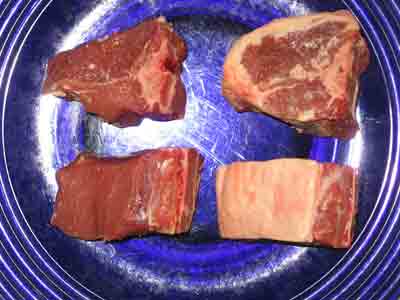 Prep the veggies:
1 yellow onion, chopped
1 bunch dill, sliced
1 bunch green onions, sliced
1 bunch spinach, sliced
1 head romaine lettuce, sliced
1 head red leaf lettuce,sliced
1 head endive, sliced (when I don't find endive at the store, I get something else in the chicory family, either a head of escarole or a couple of belgian endives)
Make sure you wash all the greens very well! You can do this either before or after you slice them.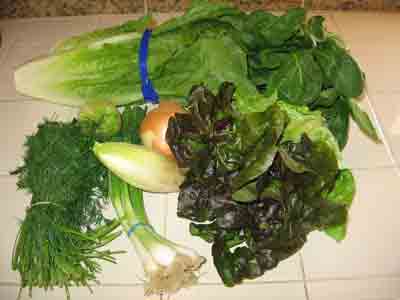 Heat 4 TB olive oil in a dutch oven until almost smoking, then put in the chops. It should take about 2-4 minutes to sear the first side. Don't move them around, this is not a stir-fry! You'll know they're ready to turn when they quit sticking to the pan. Turn them and sear the other side for 2-3 minutes.
(I'm using my Tramontina Sterling II Dutch Oven 7-qt.
here.)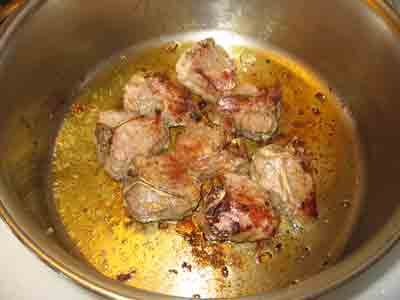 Turn the heat down to medium and add the chopped yellow onion. Saute, stirring occasionally, until the onion softens up a bit and starts turning golden.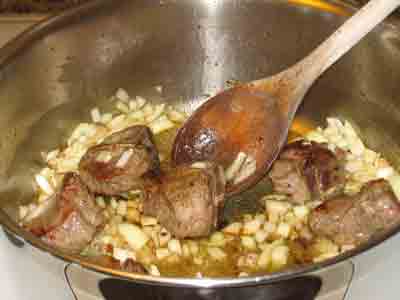 Add the green onion and dill, give it a couple of stirs, then add 1 cup of water.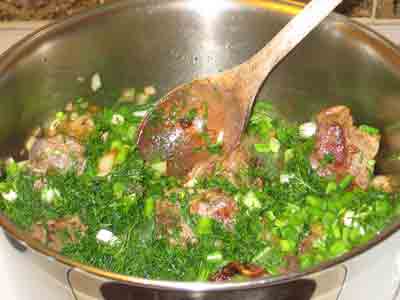 Cover the pot and turn the heat down to medium low or even low. Try to maintain a low simmer for 1 hour. (If you are using shoulder chops, you might want to simmer for 1 1/2 hours to give the fat and connective tissues more time to break down.) When the lamb is soft and tender, it's time to start adding the greens. They won't all fit, so just fill the pot up, try to stir them in a bit, and put the lid on to let them wilt down.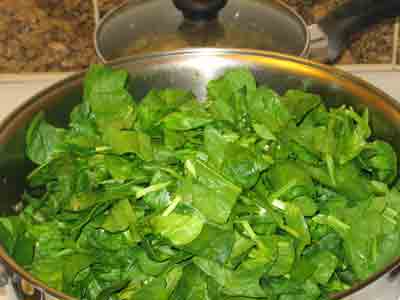 After about 15 minutes, open up the pot. Hopefully there'll be enough room for you to add more greens.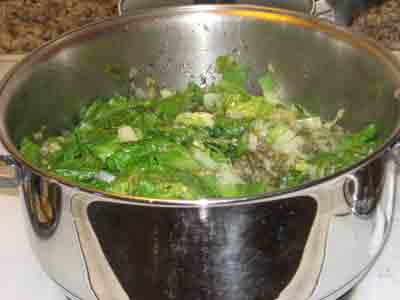 When all the greens have been added and given time to cook down a bit, it's time to make the avgolemono. Turn off the heat under the pot. Beat 2 eggs into 1/4 cup of lemon juice.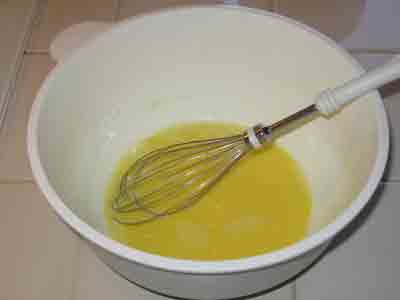 Whisk a bit of hot liquid from the pot into the egg-lemon mixture. Don't worry if bits of greens come along with the liquid, they won't hurt anything. Keep whisking in small amounts of the hot liquid until you've whisked in about a cup of hot liquid.
Stir the avgolemono into the pot.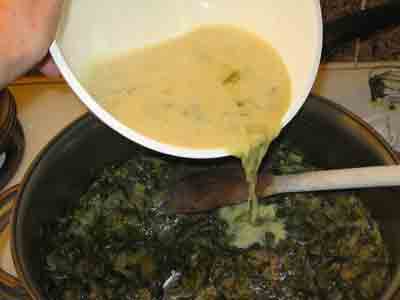 Add salt and pepper to taste. If you want to add some more lemon juice at this point, you can. And…serve! Great with bread and feta!