How To Use Extra Meatball-Rolling Flour (Pitakia)
Many of the recipes I've gotten from Mama are authentically regional, but this one for "pitakia" is purely a family recipe. How much more regional than that can you get? Mama learned it from her mother, and who knows how much further back it goes? Not a recipe per se, this is a thrifty way of using the flour that's left after you make Greek Meatballs or Summer Meatballs.
After rolling the meatballs in the flour, you can't save it for other uses, because it will have bits of meat in it. What a waste of flour, not to mention the tasty little meat crumbs. So here's what Mama does: sprinkle the flour with salt, then add water to make a paste. If it was Summer Meatballs that you just made, use the flavorful liquid that drained out of the meat mix instead of water.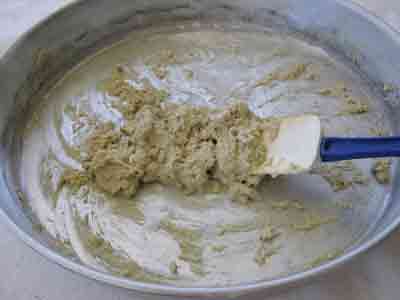 Now make patties out of the flour paste. It should be wet enough that it's a pain to work with, because if the paste is dry, the pitakia will turn out dry and tough. So add enough liquid that the resulting paste is pretty sticky. Forming patties will be easier if you coat your hands with oil. Don't try to make them pretty; it won't work. Just make rough patties and slide them into the hot oil that you cooked the meatballs in. (The heat should still be on under the pan.)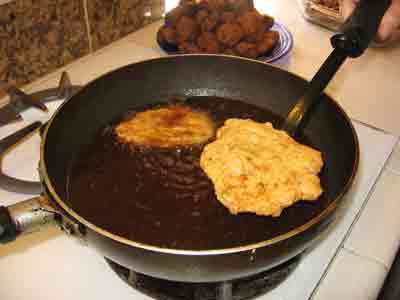 When the underside is golden, turn them and fry until the other side is golden. Eat hot with the meatballs.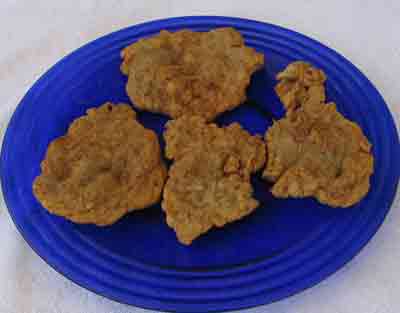 By the way, when I mentioned in my Fry Bread post that I'd had fried flour-and-water paste that was delicious, it was precisely these pitakia I was thinking of.