How To Make Quick Tomato Puree
Tomato puree is a very common and important ingredient in Greek cuisine. It is made by grating tomatoes on a box grater, but there's an easier way these days: puree them in a food processor.
Nothing could be easier, just core the tomatoes and throw them in the food processor. If you halve them first you'll be able to fit more in, and quartering them will squeeze even more in. But all you really have to do is throw them in and turn the machine on.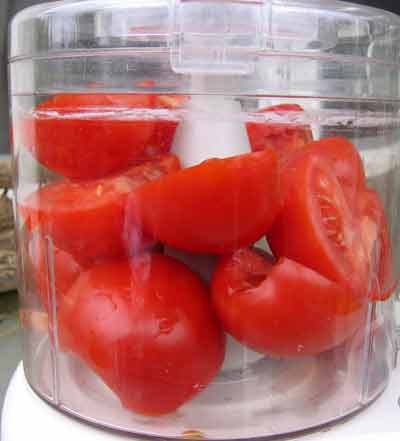 Process them into a puree and keep processing for another minute or so to make sure the skin is finely chopped and incorporated into the puree. You'll still see some little bits of skin, but that's okay, they won't be noticed after cooking.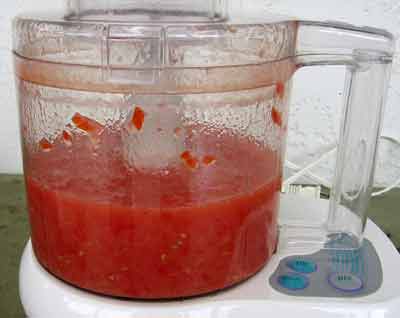 I started using the food processor to make tomato puree last summer when I had tons of tomatoes from my garden, and since then I seldom use a box grater to grate tomatoes. Oh sure, if I only needed to grate a few tomatoes for a dish I probably would use a grater instead of dragging out the food processor, but these days I always have tomato puree in the freezer, so I never need to grate a small amount on the spur of the moment.
Here are five advantages to using the food processor:
1. The skins are used, not wasted. Even the tough skins of garden tomatoes blend in just fine.
2. The seeds are less noticeable because they're somewhat pulverized.
3. It's easy to make large batches to freeze.
4. It's easy to use up sudden gluts from the garden (see #3).
5. It works better than grating does if the tomatoes are rather firm.
Any ideas for other ways of making tomato puree?
Recipes that use tomato puree:
Beef with Artichokes (Moschari me Agkinares)
Beef with Green Beans (Moschari me Fasolakia)
Beef with Quince (Moschari me Kydonia)
Calamari Cooked in Wine (Kalamarakia Krasata)
Eggs Scrambled In Tomatoes (Strapatsada)
Fried Eggplant with Garlicky Tomato-Vinegar Sauce (Tiganites Melitzanes me Skordo kai Ntomata)
Peppers in Tomato Sauce with Feta (Piperies me Feta)
Spaghetti with Meat Sauce (Makaronia me Kima)
Spaghetti with Tomato Sauce and Myzithra Cheese (Makaronada)
Tomato-Pepper Sauce (Saltsa me Ntomata kai Piperia)