How To Make Oil Cured Olives (Elies)
This is the world's easiest way to cure olives, and it's fun! Here's the gist of it: Put fresh, ripe olives in a pillowcase with an equal weight of salt. Hang outside. Shake up every day or two. When edible, rinse and pack in oil. It's as easy as that. And let me tell you, a pillowcase full of olives and salt hanging in your yard is one of the more interesting conversation pieces you can have. By the way, the description "oil cured" is a bit of a misnomer; these olives are actually salt cured and then packed in oil.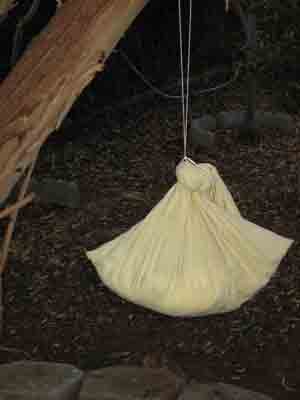 You need a source for fresh, uncured olives. I have a few olive trees, so that's where I got mine. Before my olive trees had begun bearing, I managed to locate a house not too far away with several old olive trees in front, and got the homeowner's permission to harvest some in exchange for bringing her some of the cured olives. You may be able to find fresh olives at a farmers market if you live in the right sort of climate. There are also olive suppliers to be found online, for example Penna Olives. (Note: I have never ordered olives, so I cannot vouch for this or any other supplier.)
The olives should be black and ripe. Mama says that this type of olive cure is usually used on the ripe olives that fell to the ground. But you can just as well pick black olives off a tree to use, although they take a bit longer to cure than windfall fruit.
If you want to be totally rustic, historical, and picturesque you also need a burlap sack. I use a pillowcase instead, which does just as well. Rinse the olives in a colander and pick out any leaves or twigs. Let them drain a bit, then put them in the pillowcase with an approximately equal weight of salt. Hang the pillow case from a tree branch, and gloat about having delicious olives that don't cost $10 per pound. You should shake up the olives every day, but honestly, I often forget for a few days and it doesn't matter. A bit of rain won't hurt them. If you get a lot of rain, you should check the amount of salt. Ideally there will be enough to cover the olives, and if there's not, you should add some more.
The olives can take anywhere from a week to a month or more to cure, most likely closer to a month, but it depends. How can you tell when they're done? You taste test them as they gradually shrivel up. For a long time they will be so bitter that you'll be sorry you tasted them! Then they'll start to be less bitter and more fruity, and finally they'll be really good. If you're not sure what they should taste like, get some oil cured olives from the grocery store to compare.
When they taste right, you're ready to pack them. Some sources suggest putting them in fresh salt to store. I usually rinse off the salt and let the olives dry, then put them in a container and cover them with oil. Unlike brined olives, I keep these in the refrigerator to be on the safe side.