How To Grate Tomatoes (Ntomata sto Trifti)
Grated tomatoes are a common ingredient in Greek recipes. I had never heard of grating tomatoes before I started my Greek food adventure, but it's an elegant solution that predates food processors to the problem of obtaining fresh tomato puree. (Although you can indeed use a food processor.) By grating the tomatoes you essentially remove the meat from the skin, rather than vice versa, thus obtaining skinless tomato pulp. The method I learned from Zoe is illustrated in the photographs below. All you do is cut the stem-aand-shoulders end of the tomatoes and then grate them on a box grater. Alternatively, you could cut the tomatoes in half cross-wise and remove the seeds before grating them. I've hardly ever bothered to make tomato concasse since I learned of this technique.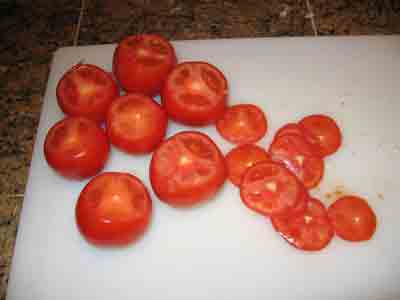 Place the tomato on the coarse holes of a box grater, skinless side down, and…begin!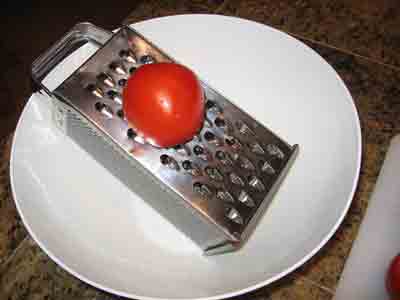 Grate to remove as much of the pulp as you can from the skin, but don't grate the tomato skin or your own skin!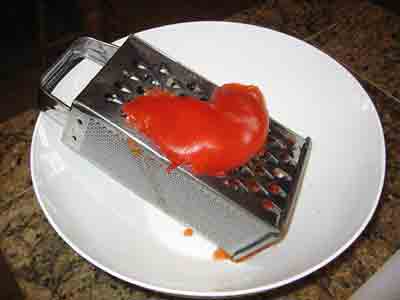 You'll end up with a bowl of tomato pulp (which can be frozen) and some skins that you can either discard or use in stock.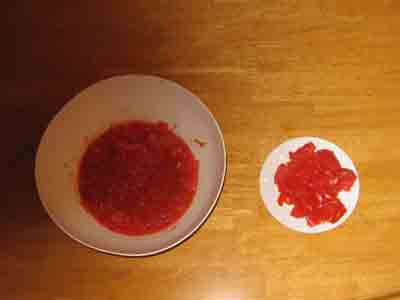 Recipes that use grated tomato:
Beef with Artichokes (Moschari me Agkinares)
Beef with Green Beans (Moschari me Fasolakia)
Beef with Quince (Moschari me Kydonia)
Calamari Cooked in Wine (Kalamarakia Krasata)
Eggs Scrambled In Tomatoes (Strapatsada)
Fried Eggplant with Garlicky Tomato-Vinegar Sauce (Tiganites Melitzanes me Skordo kai Ntomata)
Peppers in Tomato Sauce with Feta (Piperies me Feta)
Spaghetti with Meat Sauce (Makaronia me Kima)
Spaghetti with Tomato Sauce and Myzithra Cheese (Makaronada)
Tomato-Pepper Sauce (Saltsa me Ntomata kai Piperia)