How To Fry Eggs Like Mama's (Pos na tiganisete avga san tis Mamas)
Why is it that I can make a great omelet but I can't fry an egg worth a damn? Thank goodness, Zoe taught me how to fry eggs like her mama does, and now I can face the world unashamed. Would you like me to fry some eggs for you? No problem!
In a nutshell, the trick is to baste the eggs with the hot oil so that the whites cook through without you having to perform the tricky task of flipping the eggs. Of course, if you don't mind the yolks breaking, turning the eggs is no problem. But if you want unbroken, yet runny, yolks, the words "flip" and "turn" belong in a horror movie.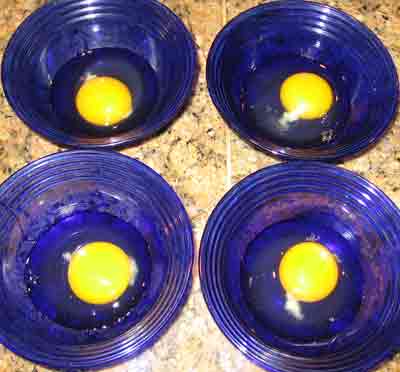 Okay, so here's what you do. First heat oil in a frying pan until it's really hot. Don't skimp on the oil! Then crack the eggs into the oil. If you're a total klutz like me, you can first crack the eggs into small bowls and then slide them gently into the hot oil. If you bother to do this, you've officially become a member of "The Church of the Unbroken Yolk." By the way, if you've gotten the oil really hot, the eggs should sizzle and bubble immediately.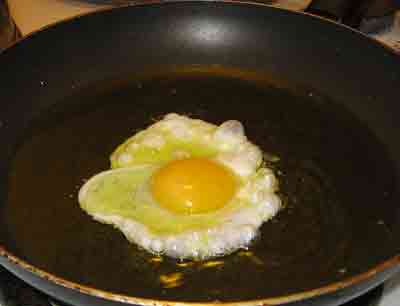 Now just stand there and spoon hot oil over the eggs while they cook.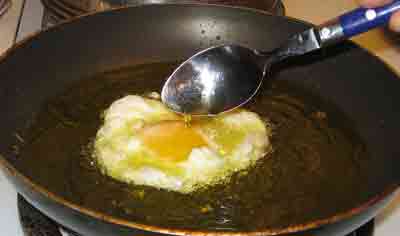 And here is my egg!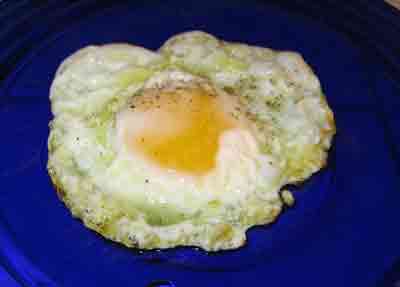 Now, I like the whites to be set, but my number one concern is that the yolks be runny. Whereas with Mama and Zoe, while they want the yolks runny, their number one concern is that the whites be firm and set. This is accomplished by basting the eggs for a few seconds longer, as I'll show you.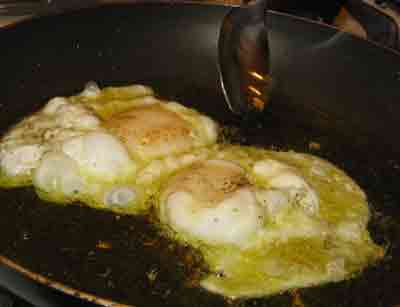 Yup, just keep basting.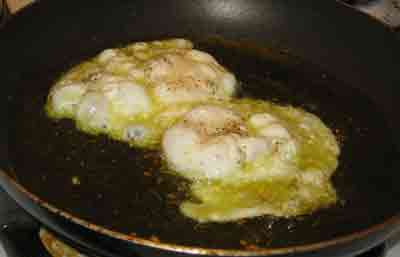 And here are their eggs! The white is completely set, including the white on top, yet the yolk is runny. Serve with bread!