Greek Cabbage Salad (Lahanosalata)
We served this salad at a Christmas party that Mama catered for me. I wouldn't have expected party-goers to ravenously devour a humble cabbage salad, especially one served alongside such interesting dishes as Greek meatballs and moussaka, but they did. My friend Alex exclaimed, "I had no idea cabbage could taste so good!"
Here is Mama's recipe. I usually make a half-recipe, which is plenty for two people.
1 head cabbage, chopped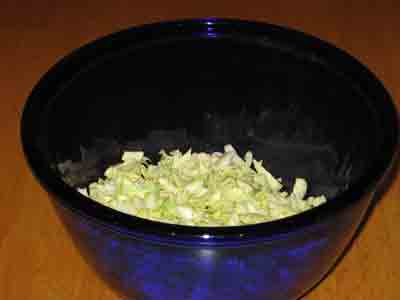 4 carrots, grated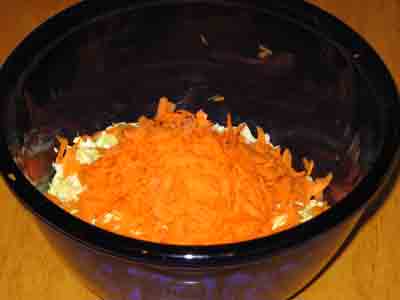 1 medium onion, preferably red, chopped finely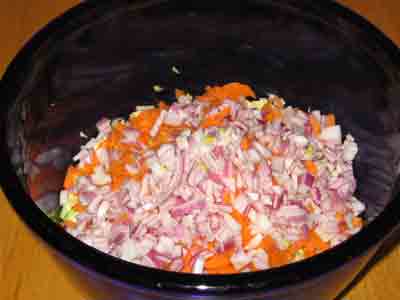 Toss with olive oil, lemon juice, salt and pepper. Here's how to add the dressing to your own taste. Sprinkle with salt and pepper, then add about half as much lemon juice and oil as you think the salad will need. Toss and taste. Add whichever ingredient you think is lacking, then toss and taste again. Repeat as necessary, keeping in mind the adage, "Leave well enough alone."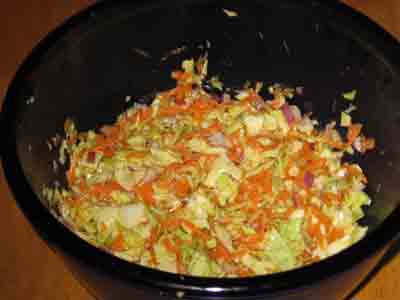 Serving Suggestions
Cabbage salad goes with practically everything, and it's also hearty enough to be accompanied by nothing more than bread and cheese for a complete meal. The tartness and crunch complement ground beef particularly well, so this is the salad I pick to accompany Greek meatballs, Meatballs with Potatoes and Tomato Sauce, Smyrna-style Meatballs, Beef Patties, pastitsio, meatloaf, etc.
Unlike lettuce salads, this will still be good the next day if you have leftovers. After more than one day it's unappealing, at least to my taste. I love bringing this salad to work for lunch, so if I make it on Sunday I'll eat leftovers for lunch on Monday. Another thing I like to do is make a batch without dressing it. That way it's ready-to-go for lunches and I just put however much I want for lunch in a container and add the salt, pepper, lemon and olive oil. Done this way, you can make one batch of cabbage salad to last for a whole week of lunches.
Here are a few regional variations of Greek cabbage salad:
Maria at Organically Cooked has a version that includes peppers and uses vinegar rather than lemon: Cabbage Salad for a Lazy Saturday Meal
Nancy at About.com has a version with celery and garlic rather than carrots and onions: Lahanosalata
Ivy at Kopiaste has a really different version: Cypriot Cabbage Salad with Nuts and Raisins. Ah, those crazy Cypriots!