Greek Garbanzo Bean Soup (Revithia)
There are three Greek dishes that stand out in my mind as having a richness of flavor you'd not expect from the simplicity and humbleness of their ingredients, not to mention their ease of preparation. They are: Greek Lentil Soup, Greek Cabbage Salad, and today's recipe for Greek Garbanzo Bean Soup.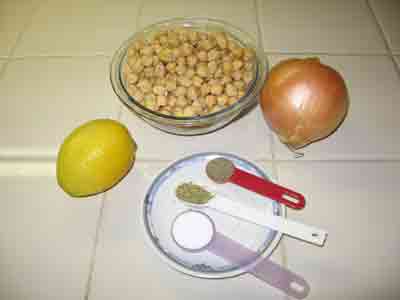 Ingredients
1/2 pound dry garbazo beans (approximately 1 cup)
8-10 cups water
1 onion, chopped
1/2 tsp crumbled dry oregano
1 1/2 tsp salt
1/2 tsp pepper
1TB flour
juice of 1 lemon (about 2 TB)
3 TB extra virgin olive oil
Preparing the Garbanzos for Cooking
Rinse and drain the beans. Pick through them a bit to check for rocks and other debris.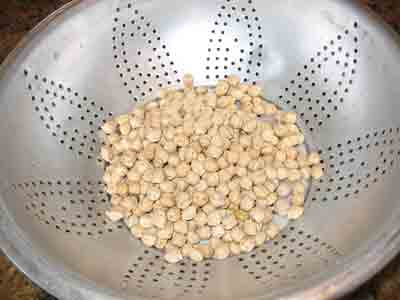 If you can plan ahead, you should soak the beans overnight to shorten the cooking time. I usually put them in the soaking water before I go to bed, then I cook them the next day around suppertiime. I guess that's more than overnight. Anyway, they still take one to one-and-a-half hours to get nice and soft.
Drain them when you're ready to cook. The garbanzos will just about double in size with a long soak.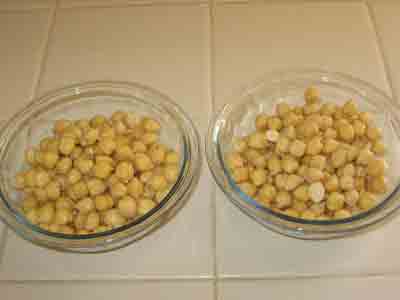 You don't have to soak the beans overnight, even just a couple of hours will help them cook up a little faster. In fact, you don't have to soak them at all, sometimes I don't. In that case I allow about two-and-a-half hours of cooking time.
Cooking It!
Dump the beans, chopped onion, oregano, salt and pepper in a pot. Add 8 cups of water if you've soaked the beans overnight, 10 cups if you haven't.
(Here I'm using my Tramontina Sterling II Dutch Oven 4.75-qt.
, one of my two main go-to pots.)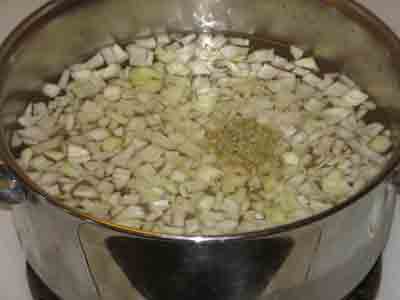 Boil until the beans are soft. This will take anywhere from 1 to 1 1/2 hours for well-soaked beans, and over 2 hours for unsoaked beans. The cooking time will vary with the age of the beans, so you'll just have to check them occasionally until they're done to your liking. Garbanzo beans don't fall apart even with extra cooking, so there's really no worry about cooking them too long. Add water if necessary to keep the dish soupy. It is soup, after all!
We're almost done, but we need to add two finishing touches.
First, we give the soup more body by slightly thickening the liquid. Here's how: Put 1 TB flour in a cup or bowl and whisk in a small amount of water.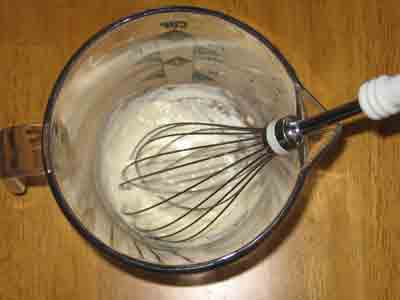 Whisk in a little more water, then a little more, then a little more, until you've whisked in about a cup of water. In the picture below, I've switched over to using a fork because my whisk was too big to get into the corners of the cup I was using.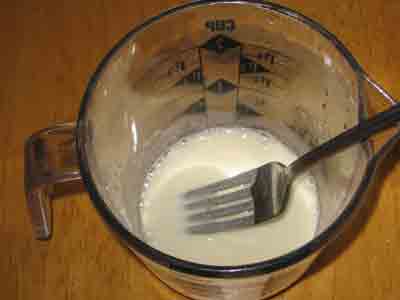 Stir the flour-and-water into the soup pot and keep boiling for about 5 more minutes to remove the raw flour taste. By the way, I'm really bad at making this flour and water slurry; mine always has lumps, no matter how slowly I add the water. Good news though, in this recipe it doesn't matter! The lumps dissolve in the soup! Yay!
The second finishing touch is a flavor addition that is very simple but totally transforms the soup: Turn off the heat and stir in the lemon juice and olive oil. That's it! You're done!
Serve with bread and olives on the side.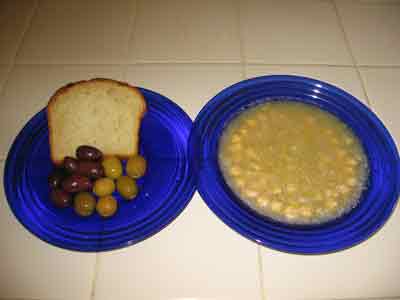 This is my entry for this week's Weekend Herb Blogging, hosted by Gay at A Scientist In The Kitchen.