Fried Eggplant with Garlicky Tomato-Vinegar Sauce (Tiganites Melitzanes me Skordo kai Ntomata)
"Let's have fried eggplant!" I have a fairly low tolerance for fried foods, so I was less than enthusiastic, but Zoe hooked me with the promise of a sauce I'd never had before. I'm glad I let myself be hooked, because this sauce is fantastic. Really. I could practically just drink it. It's a very simple sauce, yet strikingly different from other tomato sauces. It's made with fresh garlic and tomatoes, cooked briefly, then enlivened with a splash of red wine vinegar. The whole effect is fresh, light and bright – a perfect foil for the fried eggplant.
Ingredients
One eggplant, peeled lengthwise with some skin remaining.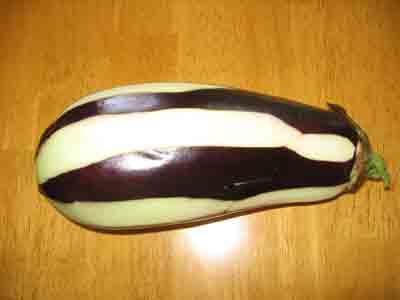 For the tomato sauce:
6 tomatoes, grated
3 cloves of garlic, minced
4 TB olive oil
1 1/2 TB red wine vinegar
3/4 tsp salt
1/2 tsp pepper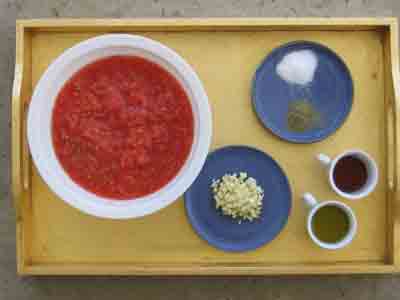 Sharpen your knife and slice the eggplant as thinly as you can. (Or you can cut it thicker if you prefer; we just happen to like thin and crispy eggplant.)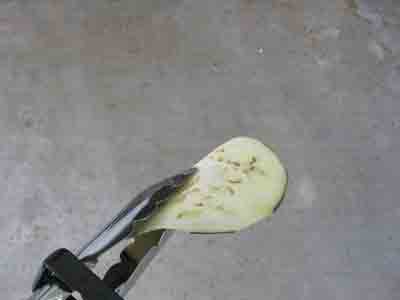 Put the eggplant slices in a colander in layers, sprinkling salt on each layer.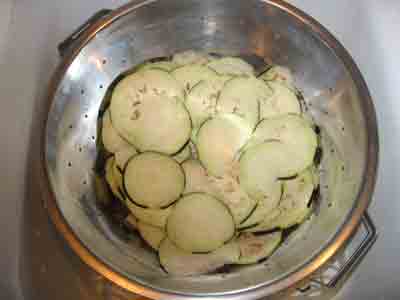 Cover the colander with a towel to keep the eggplant from turning black, and leave to drain for 30 minutes.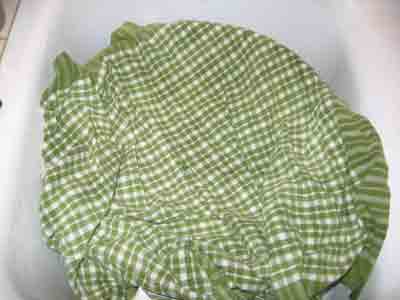 While the eggplant is draining, make the tomato sauce. Heat the oil in a skillet or shallow pan and add the garlic.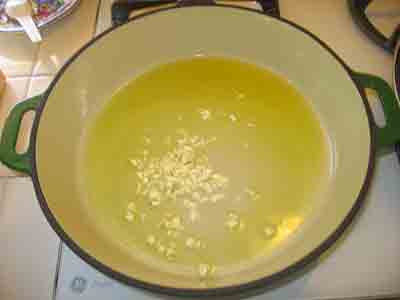 Give the garlic a few quick stirs, and as soon as it becomes fragrant and slightly golden, add the tomatoes. Don't let the garlic brown! Add the salt and pepper and simmer for 10 minutes.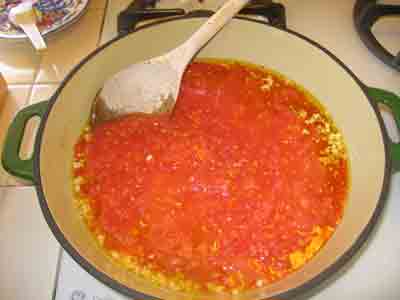 After the tomato sauce has simmered for 10 minutes, turn off the heat and add the vinegar.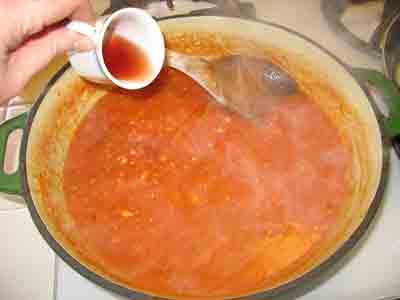 Now we're ready to work on the eggplant again. Rinse the eggplant and spread the slices out on a towel. Pat them dry and cover with another towel.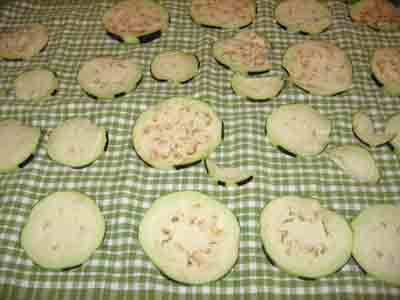 Heat olive oil in a frying pan. Put a few slices of eggplant in the hot oil, not too many because they need room "to swim." Keep the slices that are waiting their turn covered with the towel.


Remove when browned and drain on paper towels.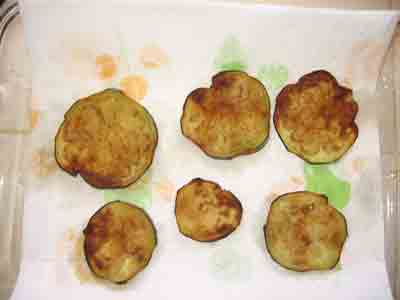 Serve the eggplant with the tomato sauce.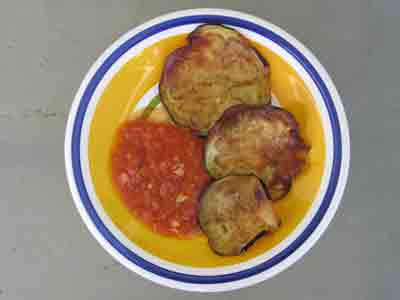 This is also good at room temperature, both the fried eggplant and the sauce.
Here's another version of fried eggplant, battered slices a bit thicker than mine. (Scroll down to find the eggplant.)