Fried Calamari (Kalamarakia Tiganita)
You can make fried calamari that's just as good or even better than what you've had at restaurants. The trick is to use very hot oil, and lots of it. Squid turns rubbery very quickly, so cook it hot and fast. Using a lot of oil keeps the oil from cooling down too much when you put the squid in, so it cooks quickly and you can pull it out before it gets tough.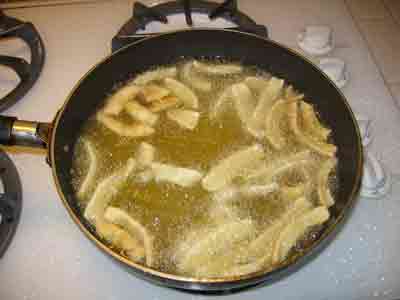 Use about 1/2 pound of squid per person for a meal.
Clean and rinse the squid.
Cut the bodies into rings or strips.
Sprinkle the body pieces and tentacles generously with salt and pepper, then use your hands to rub it in a bit.
Dump some flour in a bowl or bag, put in the calamari and toss to coat well with flour.
Pick out the calamari and put it on a plate.
Heat a few inches of oil in a deep skillet, until it's very hot but not smoking.
Put in a handful of calamari. There should be plenty of room for the pieces to bounce around in the bubbling oil.
Watch out! There'll be a lot of bubbling and popping and spattering.
Take them out when they're golden brown. This should only take about 2-4 minutes. If it takes longer, you need to get the oil hotter.