Food Blogging Is Hard to Do (Dyskolo pragma to Food Blogging)
In order to blog I have to cook, but the blog can't eat the food, so I really have to cook stuff that the people I'm cooking for will eat. Here's a recent conversation I had with Zoe:
Lulu: Hey, Zoe, give me some ideas for recipes I can make and post this week. Something you'd like to eat.
Zoe: How about sausages?
Lulu: But that's not nistisima! I'm blogging nistisima!
Zoe: Ante pali me ta nistisma!
I just don't know how the other food bloggers manage to get new recipes up two or three times a week, or even oftener. Today, by popular demand, I'm making Kalamarakia Krasata. Do other food bloggers have to make the same things over and over? Obviously I can't blog about this again when I just posted the recipe last week. Not only that, but because I can only buy squid in 3 pound boxes, I'm making a triple batch. Thus I am spending my afternoon chopping onions and parsley, grating tomatoes and cleaning squid, all of which effort is unusable for blogging.
What about all that free time I had this morning, you ask? Well, also by popular demand (i.e., persistent begging), I spent part of my morning making Paula Deen's Not Your Mama's Banana Pudding. Besides the fact that the recipe title explicitly says, "Not Mama's," I don't want to put non-Greek recipes on this site which is dedicated to Mama's Greek recipes. I suppose I should have a non-Greek food blog too, something like Lulu's Kitchen maybe, but given that I can't even keep up with Mama's Taverna, that seems a dubious proposition. Anyway, it was another unbloggable food effort.
The recipe made a huge amount of very rich pudding, so I brought half of it over to my parents. My mom looked at it and said "We can't eat all that!" My dad looked at it and I could see from his smile that he thought they could easily eat all that. But my mom rations him, so she's going to experiment with freezing some of the pudding. After that I had to tour my parents' garden and see the ferns coming up and the tomato plants in their tiny greenhouse ("On sale for only $30, and so convenient, stick your hand in and see, it's hot in there!").
However do other food bloggers manage?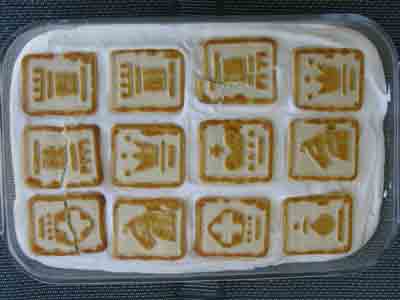 UPDATE: The pudding is delicious!