Zoe's Green Beans (Fasolakia tis Zoes)
Zoe's mama always insisted her children put the utmost effort into school, and didn't distract them too much with cleaning and cooking chores. As a result, Zoe reached adulthood without having ever made the classic Greek green bean dish fasolakia.
On a trip home to Greece, Zoe was taken by a craving for fasolakia (green beans). Mama was in California. What to do? Call Mama of course! Unfortunately it was 5 am California time. Mama was very sleepy, grumpy and would not give the recipe.
So Zoe asked the greengrocer, "How should I cook green beans?" He gave her his recipe. An old lady overheard this and said to Zoe, "What's this? A grown girl like you doesn't know how to cook green beans?" The old lady's recipe was a little different than the greengrocer's, so the lady had to share it in order to keep Zoe from falling into the errors of the greengrocer's recipe. After getting these recipes, Zoe asked her hairdresser, "How do you cook green beans?" Of course she got yet a third recipe.
Then she asked a couple of her aunts. Theia Maria agreed with the hairdresser about not sauteing anything and added a stern warning that sauteing made the dish heavy on the stomach. The other aunt said, "Pfft, how can you not saute? A little garlic and a little onion, they have to be sauteed." "No, Eleni mou, it tastes just as good if you don't saute." The last Zoe heard, they were still arguing about this.
The recipe that follows is Zoe's amalgamation of all the green bean recipes she gathered from all sorts of people.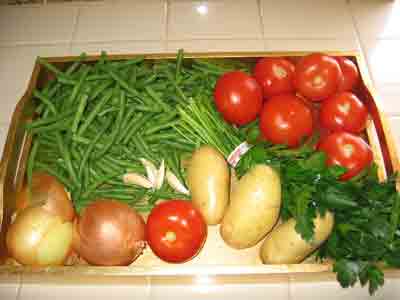 Ingredients
1/2 cup olive oil
1 pound onions, sliced
a few cloves of garlic, sliced or roughly chopped
6 whole peppercorns
2 pounds tomatoes, chopped or grated, (about 4 cups) or an equal amount of canned tomato sauce
1 1/2 tsp salt
1 tsp ground pepper
1 pound potatoes, sliced rather thickly
2 pounds green beans
1 bunch parsley, washed and coarsely chopped
Prepping the Veggies
Slice or chop the garlic. Grate the tomatoes. Wash and chop the parsley.
| | |
| --- | --- |
| Snap the ends off the green beans. | Discard the ends! |
| | |
Rinse and drain the bean middles.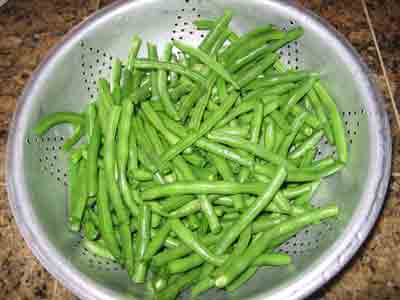 Cut the stem ends off the onions, then halve them lengthwise. Peel and slice: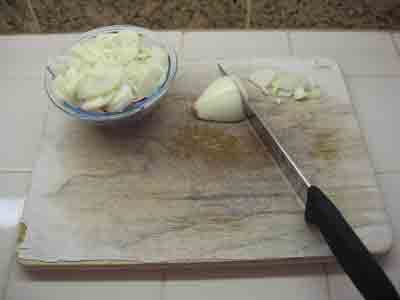 Peel the potatoes and slice them rather thickly.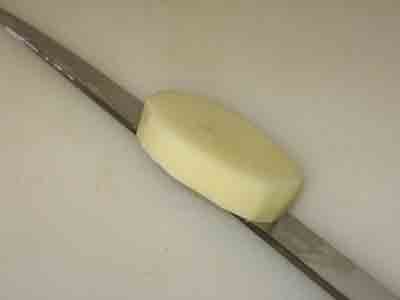 Cooking It!
Cover the bottom of the pot with olive oil, about 1/2 cup. Heat the oil on high, add the onions and saute them for about 5 minutes.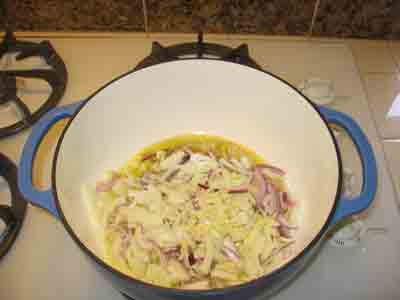 Add the garlic, peppercorns, and half the parsley, and saute for another 5 minutes. Then add the tomatoes, salt, and pepper, and bring to a boil.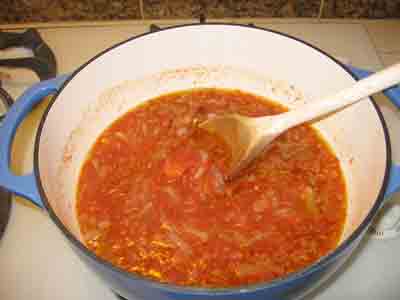 After boiling the tomatoes for 5 minutes or so, add the potatoes and stir them into the sauce.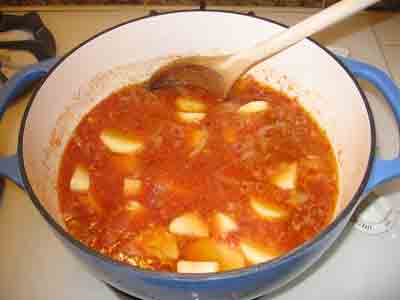 Put the green beans on top. Do not stir them in! Keep them as a layer on top of the potatoes!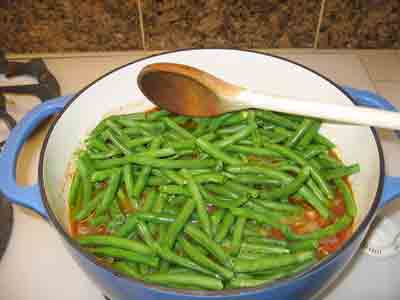 Make sure the liquid comes up past the potato layer to approximately the middle of the green bean layer. If not, add water to make it do so. It's okay if the liquid even comes up to the top of the green bean layer, better to have the dish a little soupy than to have it not cook up properly, or even burn. Sprinkle with remaining parsley. Please ignore the spoon in the picture, you are not to stir! Leave the ingredients in layers!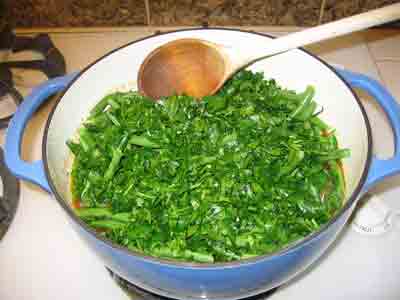 Cover and simmer vigorously for approximately 1 hour.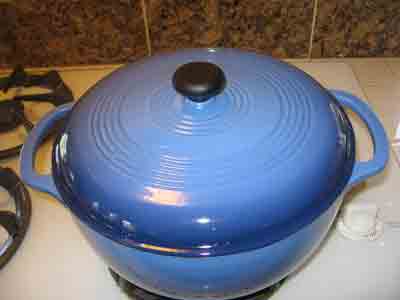 Note: If you're using a nonstick pot, you can simmer pretty vigorously. If you're using a good heavy-bottomed pot that's not nonstick (like my Lodge Enameled Cast-Iron 6-Quart Dutch Oven, Caribbean Blue
), you can simmer pretty vigorously but you'd better check every 15 minutes or so to make sure the dish isn't sticking to the bottom. If it is, you need to stir it a bit and maybe turn the heat down some. If you have to keep the heat lower to keep the dish from sticking, you might need to plan on an extra hour or so of cooking. And if you're using a crappy thin-bottomed pot because that's all you have, you can still make a great pot of beans, but make it a day ahead of time so that you can cook it slowly for as long as necessary.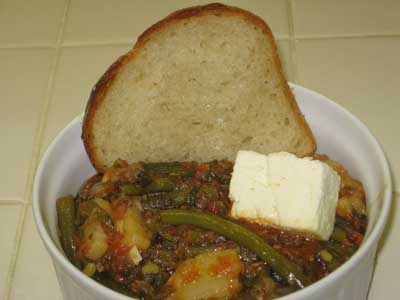 You are not aiming for crisp, bright-green beans with this recipe. The beans should be soft and sweet. Be sure to soak up the delicious sauce with some bread. This dish is just as good the next day.
Here are a couple of variations: You can add 2 or 3 thickly sliced zucchini on top of the green beans. And some people like to top the dish with yogurt.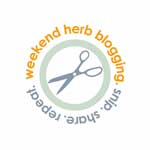 This is my entry for Weekend Herb Blogging, hosted this week by Laurie at Mediterranean Cooking in Alaska.