Eggs Scrambled In Tomatoes (Strapatsada)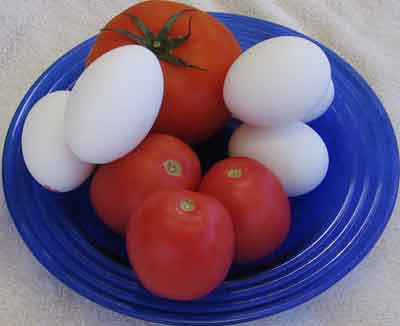 The name of this dish betrays its Italian origins. It comes from parts of Greece closest to Italy – the western Peloponnesos and the Ionian. This is a family recipe of Zoe's father, and he made it often. As with so many Greek dishes, it is surprisingly simple given the flavor punch it delivers. Speaking of flavor, it is also surprisingly sweet. I don't know why.
Ingredients
1 1/4 lb tomatoes, grated or pureed in a food processor.
5 eggs
6 TB olive oil, good quality if you've got it, because it flavors this simple dish
salt and pepper
Cook It!
Heat the olive oil in a frying pan over fairly high heat and add the tomatoes.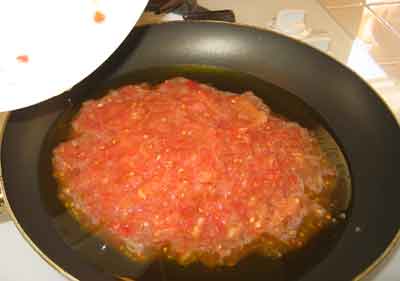 Add salt and pepper to taste. For this amount of tomato I put in approximately 1/2 tsp salt and 1/4 tsp pepper. Stir the tomatoes so they're well mixed into the oil. Cook the tomatoes, stirring frequently, until their liquid has evaporated, approximately 10-15 minutes.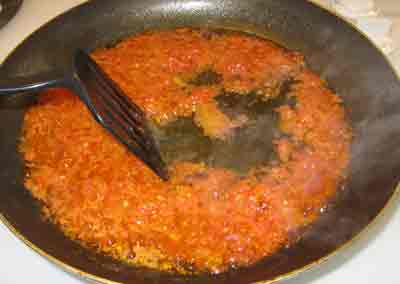 Meanwhile, crack the eggs into a bowl (you can use the bowl the tomatoes were in). Sprinkle the eggs with salt and pepper, then beat them with a fork. When the tomato liquid has evaporated, pour in the eggs.
Turn the heat down to medium low and stir the eggs into the tomatoes. Cook and stir frequently, until the eggs have set and "drunk the liquid," about 20 minutes.
Before we proceed to further steps and photos, we'd better get one issue out of the way. This is not a visually attractive dish. In Zoe's words, it looks like "orange throw-up." Just thought I should warn you. Mama won't even eat it because of the visual effect. Too bad, because it's delicious!
Okay, back to stirring.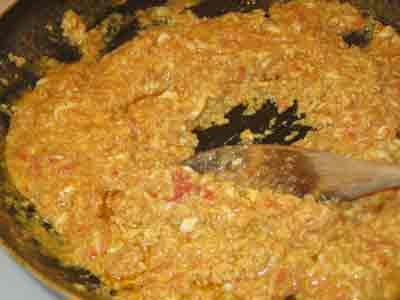 After each stirring, spread the egg mixture out in an even layer that covers the whole pan, this way it will cook evenly.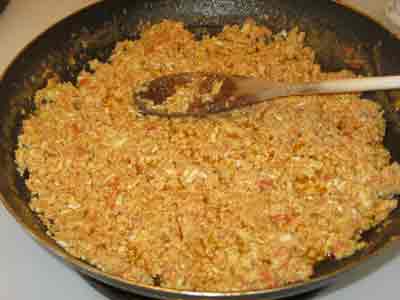 Eventually, the eggs will be firmly set and will have absorbed all the liquid.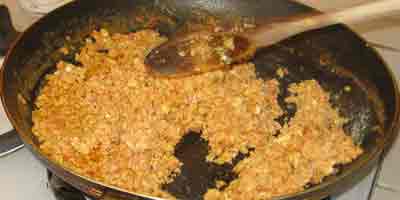 Serve with bread and feta.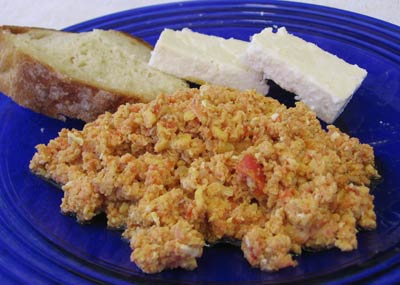 Note: I've given ingredient amounts that will make a hearty meal for two, but you can make any quantity that you want. The basic proportion is two eggs per one large tomato. Salt and pepper to taste. And don't skimp on the olive oil!
UPDATE: One of the commenters below has steered me to another recipe for strapatsada, at Kalofagas, which you might like to check out. Related to that, the question has arisen as to whether strapatsada is of Italian origin or Sephardic origin. Well, heck, I don't know! I probably shouldn't have spent time googling it, but I did, and I found this:
The Greek cookery writer Rena Salaman mentions that the word for this dish used in Corfu – strapatsatha – comes from the Italian verb strapazzare, meaning to beat.
You can read the rest, an informative article about Greek food, that includes yet another strapatsada recipe in The Guardian, Life and Style.