Beef with Artichokes (Moschari me Agkinares)
Beef, glorious beef!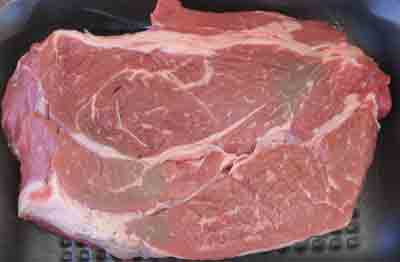 Ingredients
Please note that the following amounts are variable, and may be altered to taste.
1.5 pounds of beef stew meat
artichokes – 18 baby artichokes -OR- 12 large artichokes -OR- two 1-lb packages frozen artichoke hearts
1 large onion
2.5 – 3 pounds tomatoes
2 bunches green onions (scallions)
1 bunch baby dill
1/4 – 1/3 cup olive oil
Moschari me… (beef with…) is essentially a beef stew that highlights one particular vegetable. In this recipe the vegetable is the artichoke, but it could be okra or eggplant or peas. You can start with a package of stew meat from the grocery store, in which case you can skip the meat discussion between the two green stars.

I always follow the dictates of my beloved Cook's Illustrated magazine, and so I'm going to start with a chuck roast which I trim and cut up into stew-sized pieces.
According to Cook's Illustrated (you know, the people who do America's Test Kitchen on TV) the best meat for stew comes from shoulder cuts. These have sufficient collagen and fat-marbling to not only withstand long, slow cooking, but to be actually improved by it. Your more expensive, more tender cuts will just get tough and dry if you try to cook them for a long time. Prepackaged stew meat from the grocer may well be from the shoulder, but the advantages to buying a roast and cutting it up yourself are threefold:
1. All pieces come from the exact same cut of meat, hence have similar cooking requirements.
2. You can trim the fat thoroughly.
3. You can cut the pieces to be larger and more evenly sized than they are likely to be in a package.
Common names of some shoulder cuts in the U.S. are: blade roast, top blade roast, flat iron steak, 7-bone roast, chuck roast, chuck eye roast, center cut pot roast. If you're not in the U.S., I'd love for you to leave a comment giving the names of beef shoulder cuts. Even if you are in the U.S., names are not standardized across the country, so please weigh in with your local nomenclature.
The photo above shows a small chuck roast (known as chuck eye roast on the east coast) with its typical seam of fat and gristle running across the center. In the photo below, I've split the roast along this seam. I was able to split it by simply pulling it apart with my hands; for a larger roast I might have needed the aid of a knife.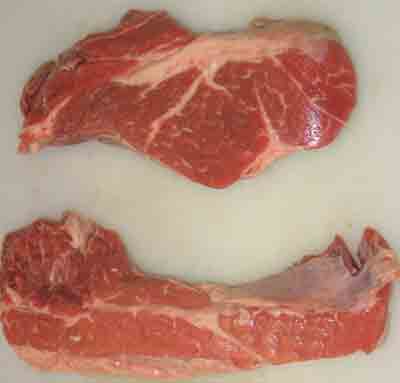 The nice thing about splitting the roast along its major fat seam is that now the main fat deposits are on the exterior and may be easily trimmed off before cutting the roast into stew-sized pieces. Try to make roughly two-inch pieces. They'll be irregular and somewhat unevenly sized; you can't help that, so don't stress about it. Don't worry, this is going to be really good!

Grate the tomatoes, coarsely chop the onion, and season the meat generously with salt and pepper.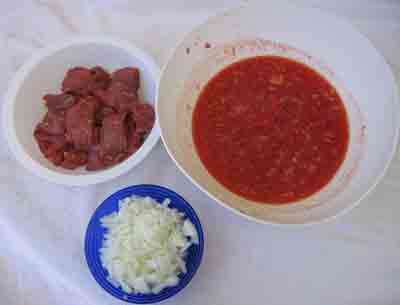 Heat the oil in a dutch oven or heavy pot over high heat until it's hot and fragrant, then put in the meat.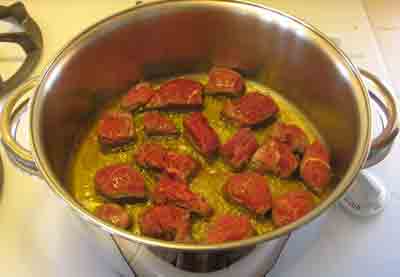 When the meat is nicely seared on the first side, about 3-4 minutes, turn it over. If the meat sticks and doesn't want to be turned, that means it's not well-seared. It will release when it's ready to be turned over.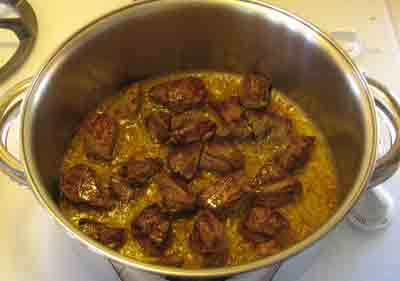 Cook the second side for a few minutes so that it too is well-browned, then add the onions.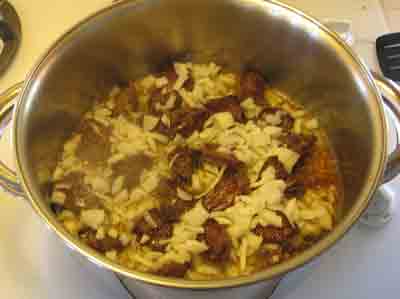 Saute the onions with the beef for a few minutes, stirring frequently.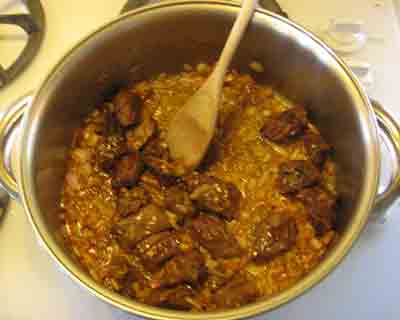 Add the grated tomatoes and stir, scraping the bottom of the pan to get the flavorful browned bits into the sauce. If the tomatoes don't cover the beef completely, add some water so that it is covered. We're not making soup, but still, it's better to err on the side of having a bit too much liquid. It's a little hard to tell from the photos, but if you look at the photo immediately below, you can see some meat corners sticking up out of the liquid. We added some water, and you can see that in the next photo, no meat is visible.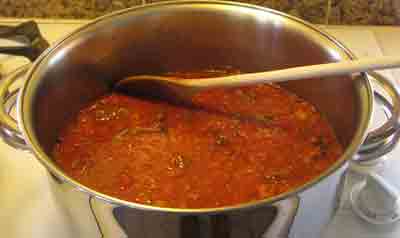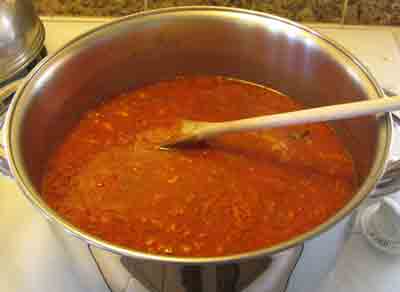 Bring the liquid to a boil, then turn the heat down, cover, and maintain a simmer. Simmer covered for about 1 1/2 hours. In the meantime, we'll prepare the herbs and artichokes.
I bought a package of 9 baby artichokes to go with the meat, and I was mocked (mocked, I tell you!) for my naivete in thinking they would be sufficient. What can I say, I've never trimmed fresh artichokes down to the heart before. I've always used frozen artichoke hearts, and you can too if you want. Two 1-pound packages should be about right. Anyway, I went back to the store and bought 6 more artichokes, large ones this time.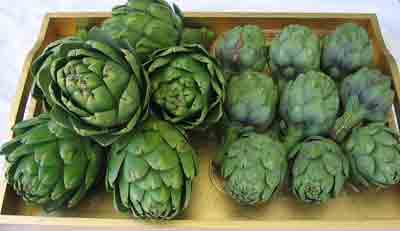 The following links give better instructions and photos than I could supply for dealing with the artichokes.
Cleaning large artichokes to obtain artichoke hearts.
Trimming baby artichokes for cooking.
As soon as you trim each artichoke, pop it into a bowl of water to which you've added a couple of squirts of lemon juice. This keeps the artichokes from turning dark brown. As you can see below, neither Zoe nor I were fast enough with a knife to prevent browning while we were trimming, but at least they didn't get too dark.
We've also sliced two bunches of green onions and chopped one bunch of dill.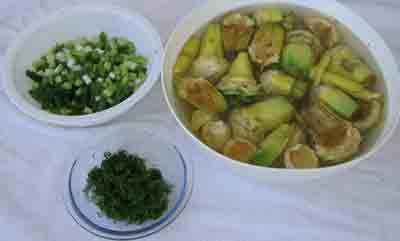 When the meat has simmered for about 1 1/2 hours, add the artichokes, green onions and dill, and stir them in. Add salt and pepper to taste. You may want to add some more water to make sure there's enough cooking liquid for the artichokes. Again, err on the side of a bit too much liquid if you're not sure. Anyway, the liquid will taste heavenly soaked up with bread!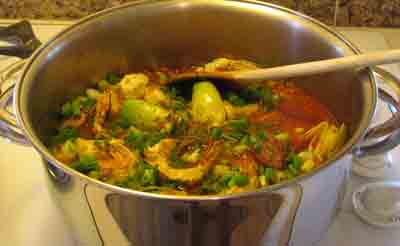 In the picture below, we've added a bit of water.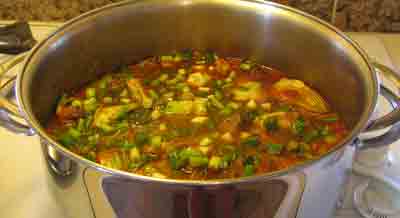 Cover and simmer until the artichokes are soft, about 30-45 minutes.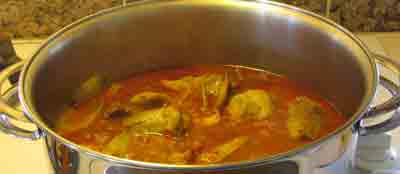 When the artichokes are done, the whole dish is done!
My question for you:
What cut of beef do you recommend for beef stews such as this one? What is your preferred cut called where you are? Please leave a comment if you have an answer!