Tzatziki (Tzatziki)
It feels funny to write down a recipe for tzatziki, because it's the sort of thing one makes by adding stuff and tasting it. Hmmm, more salt? Oil? Yes, a little more of each! At the same time, if you've never made tzatziki, then you have no idea where to start. So here's a recipe to get you going on this delicious Greek classic.
Ingredients
1 pound of greek yogurt (or any strained yogurt, but the award-winning Fage is especially recommended)
1 cucumber, peeled and minced (remove seeds if cooking for delicate digestions)
2 TB chopped baby dill (approximately)
2-3 cloves of garlic, finely minced, or better yet, pressed in a garlic press
3/4 tsp salt
1/8 tsp pepper
2 1/2 TB extra virgin olive oil (use the good stuff if you have it)
1 1/2 TB red wine vinegar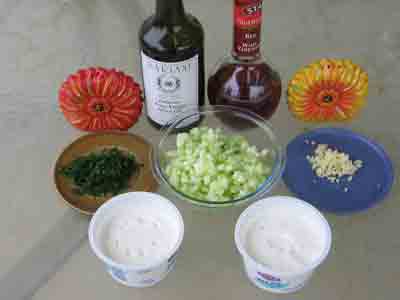 If you just want to follow the recipe and make a bowl of tzatziki, dump everything in a mixing bowl and stir it thoroughly. *See below if you'd rather develop a feel for making this so that you don't need a recipe.

Taste the tzatziki and adjust salt, pepper, oil and vinegar as needed to satisfy your taste. Stir again thoroughly if you add anything. Traditionally served garnished with a black olive ("Pointy side up, butt side down!" says Zoe adamantly) and a drizzle of extra virgin olive oil.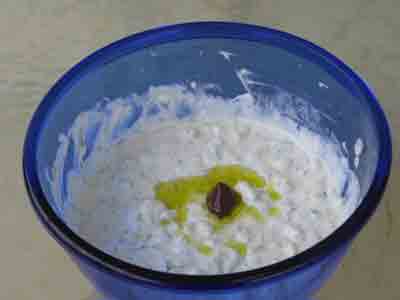 *If you want to do this using the traditional mix-and-taste method, put the yogurt, cucumber, dill and garlic in a bowl. You might want more garlic than I use, it's up to you. Sprinkle in salt and pepper, just eye-balling the amounts. It's okay to be generous with the salt, but be sparing with the pepper because the raw garlic also adds hotness. Mix thoroughly. Now add some oil and vinegar and mix well. Taste and add whatever you think it needs. Mix and taste again. Repeat as necessary.