Summer Meatballs (Keftedes Kalokairinoi)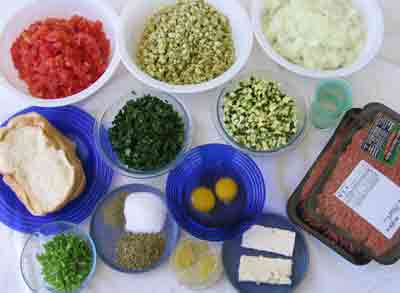 You can call them meatballs, but I would almost characterize these as vegetable fritters flavored with meat. Nevertheless, carnivores will love them and not realize how many vegetables they are eating! I adore summer meatballs, but I'd lost the recipe I'd gotten from Mama. With eggplants and peppers and tomatoes needing to be harvested in the garden, I decided to call her. She went through the recipe wth me in her own way.
"How much parsley, Mama?"
"Eh, you know, enough!"
I guess Mama trusts my judgment now! Well, sort of. When I told her I was working with one kilo of meat, she asked with a note of suspicion in her voice, "You mean you have two pounds?"
The recipe below can easily be halved.
Ingredients
2 pounds lean ground beef
6 slices of bread, soaked in milk and then squeezed out
2 thick slices of feta cheese, crumbled
6 tomatoes, chopped
1 round eggplant or 4 japanese eggplants, peeled and finely chopped
2 banana or anaheim peppers, finely chopped
2 small zucchini, finely chopped (optional)
6 onions, finely chopped
6 cloves of garlic, minced or pressed
2 bunches of parsley, minced
40 fresh oregano leaves, minced or 1 TB crumbled dry oregano (not powdered)
2 eggs
1/2 cup ouzo (or red wine or beer)
4 tsp salt
1 tsp black pepper
a few cups of flour to form the meatballs
several cups of oil to fry the meatballs
Cook It!
Put the meat in a bowl. Tear the soaked and wrung-out bread into pieces and throw it in. Crumble the feta slices into the bowl.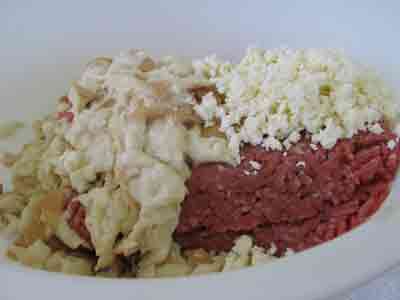 Add the other ingredients. Halfway through adding them decide your mixing bowl is too small.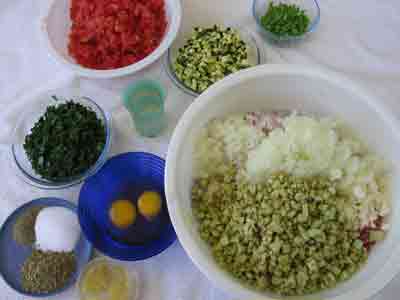 Ah, that's better!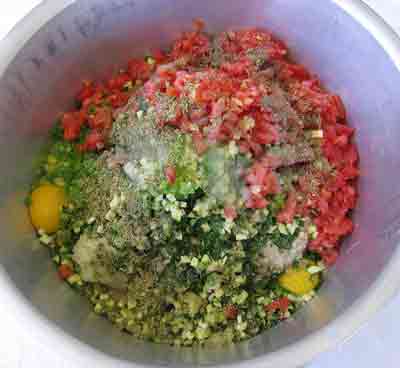 Use your hands to mix the ingredients very well. Mama emphasized this particularly, and didn't hang up before reminding me several times that I must be very thorough in the mixing. Put the well-mixed meat (Remember to mix it very well! Yes, Mama, I will.) in a colander set in a bowl, and refrigerate it for at least one hour or better yet, overnight. (In my next post I'll tell you about a thrifty and tasty use for the liquid that drains out.)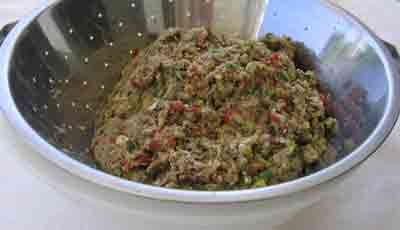 Put a small blob of meat mixture, about a tablespoon, into a pan of flour.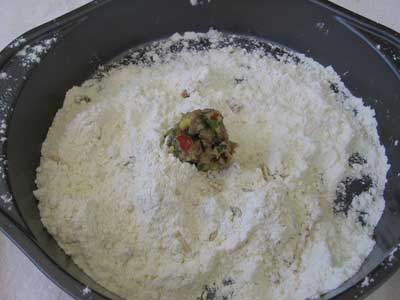 Dump a handful of flour over the meat blob. Pick up the meat blob along with a handful of flour and roll it into a ball. This meat mixture is quite wet, so don't be afraid to squeeze it into coherence.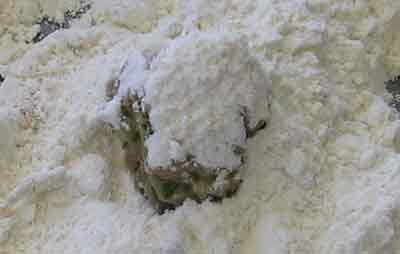 Flatten the ball into a thick disk and set aside.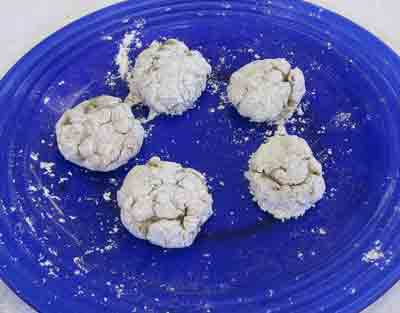 Heat a couple of inches of oil in a pan until hot, and add several meatballs. If the oil is hot enough they will sizzle immediately. Don't put too many meatballs in at once; they need room "to swim." Remove when the outside is well browned.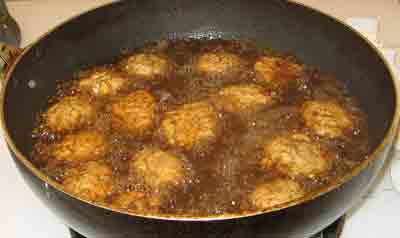 Notice that the oil in the photo above is very brown. If you are making a half-recipe, with one pound of meat, this is how the oil will look at the end. If you are making the full recipe with two pounds of meat, this is how it will look halfway through. At this point you need to dump out the oil, wipe out the pan with a paper towel, and start afresh with new oil. You see, the flour from the meatballs is turning the oil brown, and if you keep using the same oil the flour will overcook and cause bitter flavors. Additionally, with the oil so brown, the meatballs will look brown and done long before they are, so it's awfully easy to remove them before they're cooked through.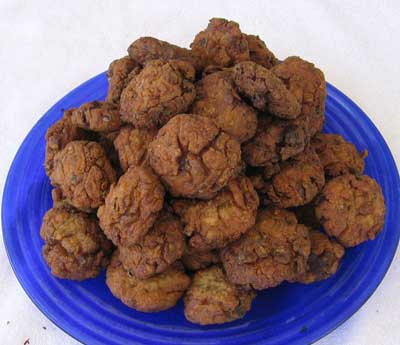 These are best straight from the hot oil, but they are also great left over and heated up, and they freeze well too. I always make a big batch to have leftovers and to freeze.