Peppers in Tomato Sauce with Feta (Piperies me Feta)
I've never liked cooked bell peppers at all, and so I didn't think I liked any cooked peppers. But this dish changed my mind.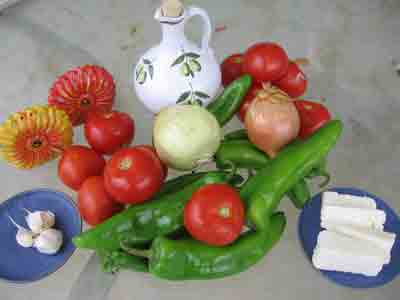 Ingredients
8 long peppers (italian, banana, anaheim, etc), approximately 1.5 pounds
2 yellow onions, approximately 1 pound
12 tomatoes, approximately 3 pounds
3 cloves garlic
1/2 tsp salt
olive oil
Prepping the Veggies
Quarter the onions lengthwise and then slice them crosswise. According to Zoe, this is totally wrong. The onions for this dish must be sliced lengthwise. Just lettin' you know. Slice or chop the garlic and grate the tomatoes.
Cut the tops off the peppers.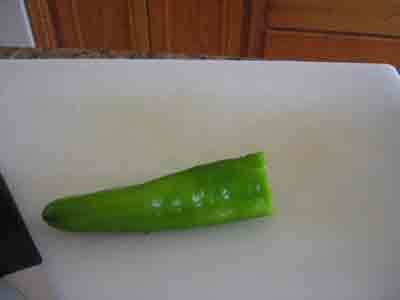 Cut out the thick ribs at the top of the peppers.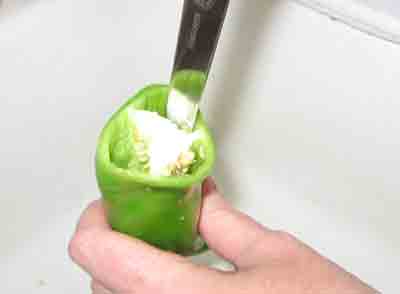 Stick your fingers into the peppers and dislodge the seeds, then rinse the seeds out with a strong blast of water.
Now go wash your hands and whatever you do, don't rub your eyes until you've scrubbed your hands thoroughly. Even peppers that don't taste hot can be amazingly searing to your eyeballs!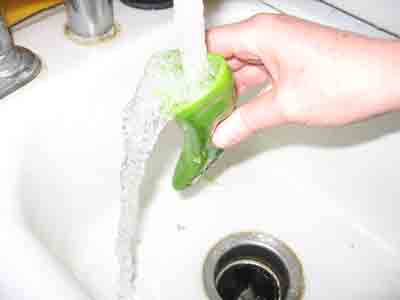 Cooking It!
Saute the onions and garlic in about 1/4 cup of olive oil for about 10 minutes.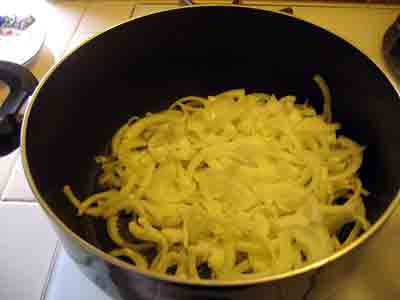 Add the tomatoes and salt, cover, and simmer vigorously for 20 – 30 minutes.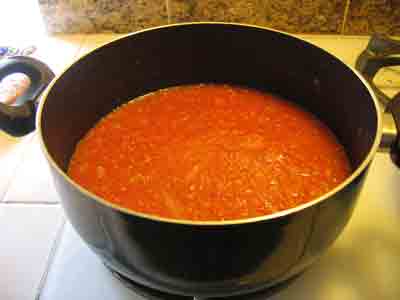 While the sauce cooks, fry the peppers. Heat an inch or so of oil in a frying pan and add a couple of peppers. As always when frying, make sure the items have room "to swim."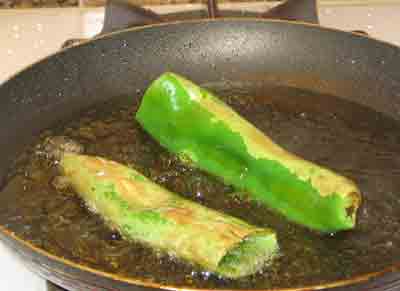 Cook the peppers for 3-5 minutes. They're going to bake in the tomato sauce, so you're not trying to get them totally done, but they should soften and collapse a bit.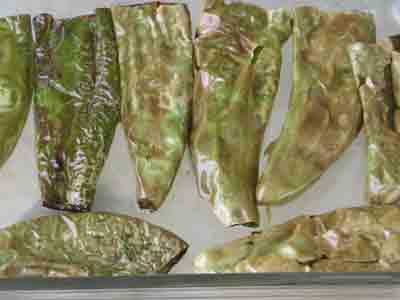 Put the peppers in a baking pan in a single layer, and spoon the tomato sauce over them.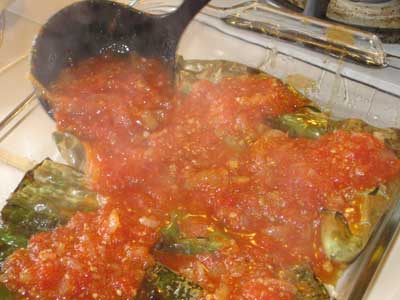 I'm not sure how well you can tell from the above photo, but the sauce will be a bit watery at this point. If you were going to use it as a pasta sauce you'd probably cook it down more. But in this case you want the liquid for the peppers to continue cooking in, and there will also be evaporation as the dish cooks on a shallow pan in the oven.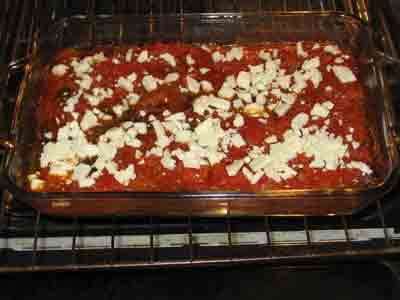 Bake at 350 degrees for about 45 minutes, then top with crumbled feta. Bake for another 10 minutes or so, until the feta is golden.