Greek Lentil Soup (Fakes)
I loved this soup when I first ate it, but then suffered severe mental dislocations when I found out how simple it is. No meat, no cheese. (I'd only ever had lentil soups with sausage and/or cheese garnishes before.) No meat or poultry stock, just water! You don't even have to saute the vegetables, just cut 'em up and boil them with the lentils. And yet Greek lentil soup is the most delicious lentil soup. The base flavor comes from the lentils themselves plus the standard trinity of aromatics: onions, carrots, celery; plus some garlic and bay leaf, maybe some tomato if you're so inclined. So far a solid but not spectacular dish. But then garnish it with extra virgin olive oil and red wine vinegar, and ZING! All the flavors come together in a new and suprisingly exciting way. For me Fakes (pronounced fah-KESS) epitomizes the genius of Greek cuisine.
Simmer together:
1/2 pound (~1 cup) lentils
1 onion, chopped
2 cloves garlic, chopped
2 carrots, sliced, chopped, or grated*
2 stalks celery, chopped
1 potato, cut into cubes 1/2 inch or smaller
1 bay leaf
6-8 cups water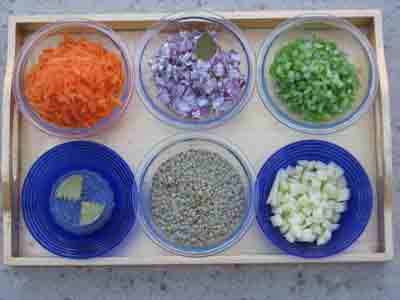 After about 30 minutes, when lentils are soft (to your taste) add:
1 pound tomatoes, grated, or a 14.5 ounce can of tomato sauce
1 greek coffee cup extra virgin olive oil (about 1/4 cup)
2 tsp salt
1/2 tsp ground black pepper
Simmer for another 10 minutes or so.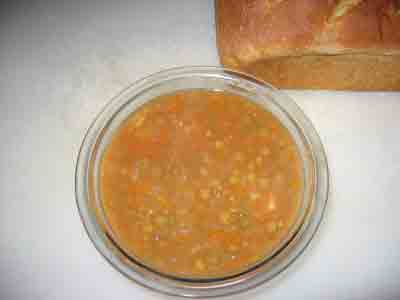 Let each person garnish their bowl with red wine vinegar to taste.
*A note about the carrots : Mama just slices them up, but unfortunately Zoe and I both leave the carrots in our bowls when we eat the soup. I started chopping the carrots finely so that we would have to eat them and get the vitamins they provide. Eventurally I started grating them on a box grater because that was faster than fine chopping, and also the carrots dissolve even more unobtrusively into the soup. So if you're cooking for small children or vegetable-challenged adults, this is the way to go!