How To Drain Yogurt (Pos Na Straggisete To Yaourti)
Greek recipes calling for yogurt, such as Tzatziki, invariably call for Greek-style yogurt, which means that the yogurt has been drained of its liquid whey. But you can easily drain American yogurt to use in Greek recipes, and if you start with a high quality, whole milk yogurt such as Brown Cow, you will have excellent results. In fact, although drained Brown Cow doesn't quite match up to the creaminess of the award-winning Fage yogurt, it's head and shoulders above the "Greek Gods" yogurt which has lately appeared at my grocery store.
You will need a bowl, a colander, some cheesecloth, and of course, yogurt.

Place the colander in the bowl, and line the colander with cheesecloth. I generally cut off a length that will cover the colander with some hang-over, then I open it up completely and fold it in quarters: in half crosswise and then in half lengthwise.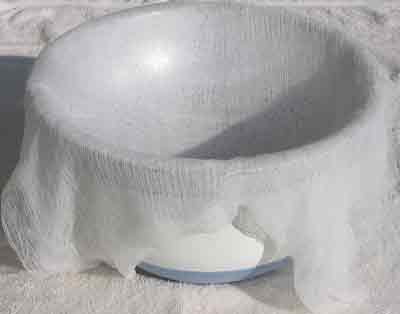 Dump the yogurt into the cheesecloth-lined colander. (Not to be totally obsessive or anything, but because a little tiny bit of the yogurt is going to be absorbed into the cheesecloth, and because Brown Cow is a cream-on-top style of yogurt, I usually remove the cream layer, then dump in the yogurt, and finally put the cream layer on top where it won't sink into the cheesecloth.)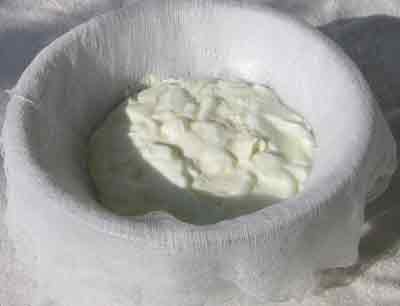 Flip the loose ends of the cheesecloth up to cover the yogurt and then place the whole set-up in the refrigerator, for a few hours or overnight. If it's winter and you don't heat your house much, you can leave it on the countertop. (I bet that sentence sounds really strange to people in northern climes.)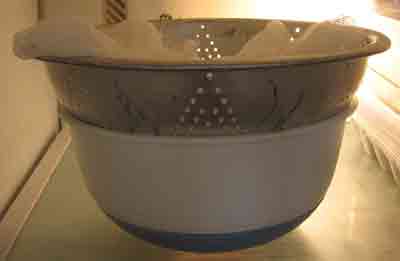 You'll find that as the whey drains out, the volume of yogurt will shrink by about one-half.
I did mention that as long as you start with good quality yogurt you'll get excellent results, right? Okay then, let's talk money. I can buy a large container of Brown Cow for less than I pay for a small container of Fage. After I drain the Brown Cow, I'm left with roughly the same quantity of yogurt as in a small container of Fage. But I paid less for it and I also get the bonus of one-and-a-half or so cups of whey, which I can use in bread baking.