Greek Tomato Salad (Ntomatosalata)
The basic Greek tomato salad is much simpler than the famous horiatiki. You just need tomatoes, onion (preferably red onion), salt, olive oil, and a bit of oregano.
Core the tomatoes and cut them lengthwise into 4 to 8 wedges, depending on their size. Slice in some onion, sprinkle on salt, and crumble in a couple of pinches of dried oregano (or add a few fresh oregano leaves if you have them).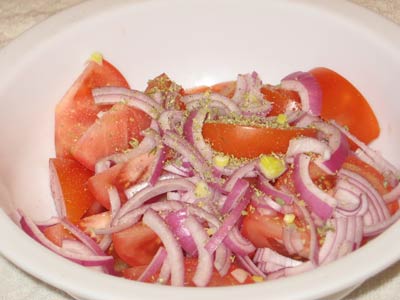 Drizzle on your best extra virgin olive oil and mix everything up a bit. That's it! (Note: vinegar is not required here, but if you feel like adding some cucumber to the salad, then do add a bit of vinegar as well.)
Zoe says that the two main mistakes Americans make with this salad are cutting up the tomatoes too small, and using tomatoes that are too ripe. Both of these mistakes tend to produce a mushy salad due to the tomatoes falling apart. I know from experience that the salad is not as good when I try to cut thin pieces of tomato as when I leave them in nice, thick, sturdy wedges. As far as the ripeness question goes, I'll leave that to your judgement. I love ripe tomatoes! At the same time, if they're so ripe that they'll fall apart in the salad, I agree with Zoe that they should be used for cooking, or maybe sliced into a sandwich.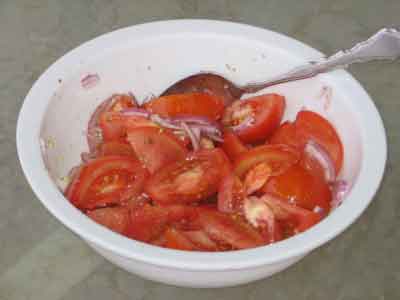 This easy, simple salad is great with almost anything! It's one of my standard go-to salads for quick weeknight suppers. And it is often served with bread and feta as a complete meal, light but satisfying!