Fry Bread (Ladopsomo)
You can use absolutely any bread recipe you want for this. Face it, how could fried dough ever be bad? I've even had fried flour-and-water paste that was delicious. Seriously! So follow whatever bread recipe you like up until the point where it has you shape the loaves.
For frybread you divide up the dough into smaller portions and make flat "loaves" that look like pita breads. For a bread recipe that calls for 3 cups of flour I usually make six pieces, but it really doesn't matter as long as they fit in your frying pan. Flatten the pieces with a rolling pin, or even just with your hands, and put them somewhere to rise for a while. I usually put them on a sheet or pan that I've lightly oiled.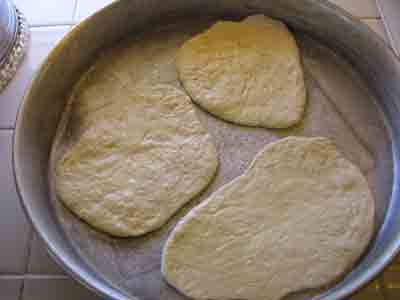 Cover them loosely with plastic so they don't dry out and leave them to rise for about half an hour. If you don't have time for that, it's okay to fry them right away, they'll still be good, just a little less puffy.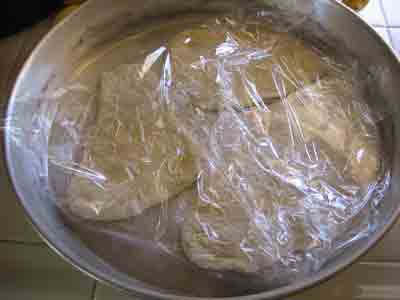 Heat about an inch of oil in a frying pan, and when it's hot (i.e., a little piece of bread or of dough dropped in will sizzle right away) add one dough portion. If they're small enough, you might have room for two, but don't crowd them. They need room "to swim."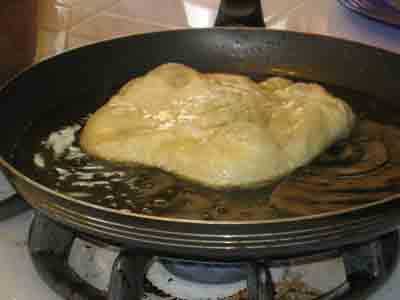 Right away they'll puff up a little, or maybe a lot!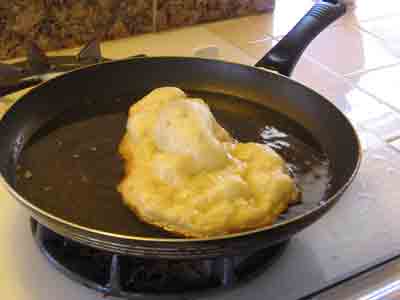 When the underside is golden turn the bread over. You'll probably find that the center is not as brown and well-cooked as the edges. If you want, you can baste the center with spoonfuls of hot oil to help even things out. You have to stand there and watch the bread anyway, so why not?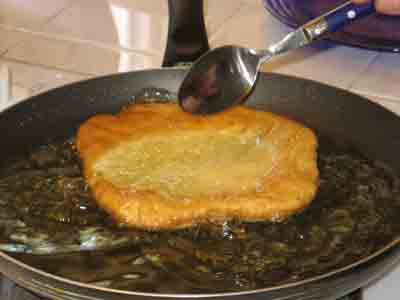 When the other side is golden, remove the bread to a plate and start again with the next piece.
Some grated myzithra cheese sprinkled on top makes it extra good!