Beef with Quince (Moschari me Kydonia)
I'd never met a quince until I started hanging around with Greeks. Quince are mostly used cooked in desserts as they are a bit too sour to eat out of hand. I'm not big on desserts, so quince mostly stayed under my radar screen until I had this savoury quince dish. Now I'm hooked!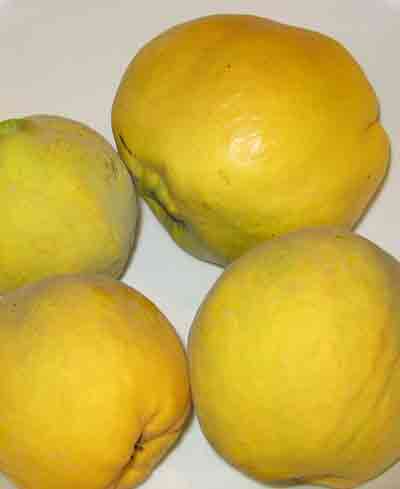 Ingredients
2 lb chuck roast, trimmed of fat and cut into 2 inch pieces (Here's my advice about stew meat.)
2 onions, chopped roughly, or just halved and sliced
4-5 tomatoes (about 1 – 1.5 pounds) grated or pureed
1 tsp salt
1/2 tsp pepper
1-2 bay leaves
1 stick cinammon
1 cup dry white wine
1 – 2 lb quince ( Depends on how much quince you want in your stew. I'd use about a pound or a little more.)
1 TB sugar
olive oil
butter (optional)
Cook It!
Toss the meat chunks with 1 tsp salt and 1/2 tsp pepper. Sear in 2 TB oil until well browned on at least two sides. Do this in batches so that the meat sears instead of steaming. The meat chunks should not be touching. Set the meat aside in a bowl.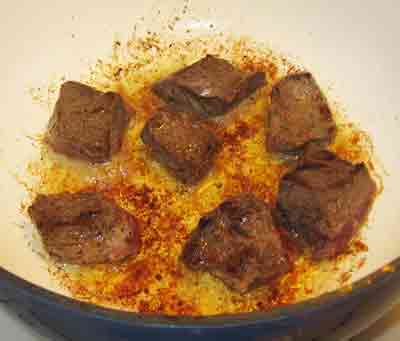 Add onions and saute. As the onions give up their moisture, the brown gunk on the bottom of the pan will soften and you will be able to scrape it up and mix it into the onions.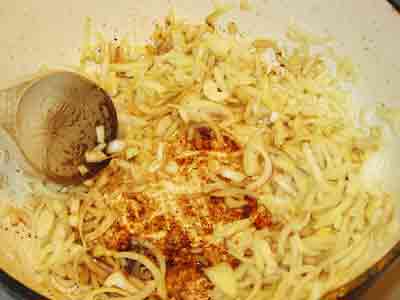 When the onions have softened up some, 5-10 minutes, add the meat back to the pot along with any juices in the bowl.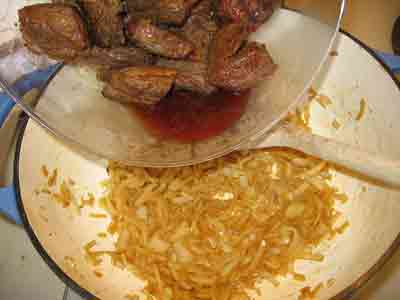 Add the grated tomato and the 1 cup dry white wine. I forgot to take a picture of pouring the wine in, so please just visualize a low-quality photo of white wine being poured into a pot of stew.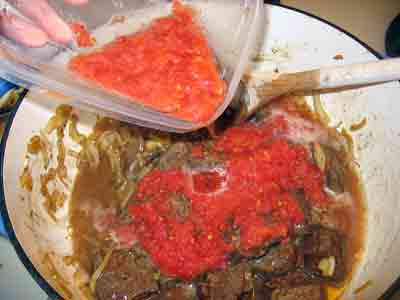 Add the bay leaves and cinammon stick.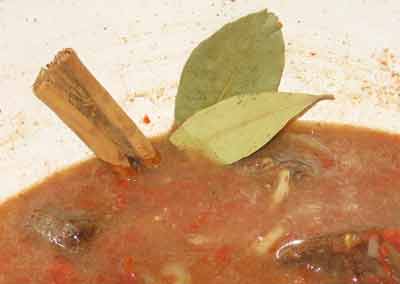 Bring to a boil, then turn the heat down and simmer for 1 hour. While the beef simmers, wash, peel and core the quince. Cut it into wedges or thick slices. Quince are much tougher than their cousin the apple, so feel free to curse a lot while you're doing this. Try to remain calm when the pieces break up instead of allowing you to form nice wedges.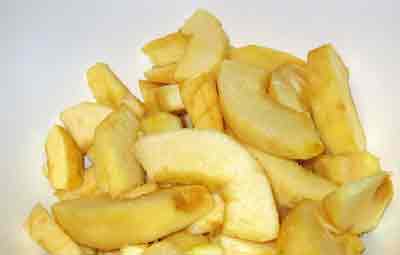 Toss with 1 TB sugar. Saute in oil or butter until light golden brown on both sides. (Butter is extra yummy!) Set aside on a paper towel lined plate.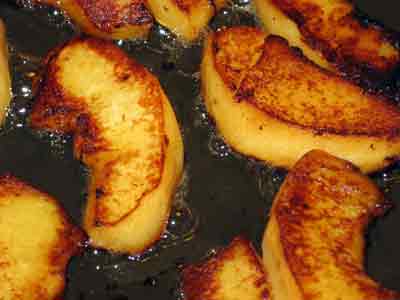 When beef has simmered for 1 hour, add the quince and continue to simmer for 1 hour more.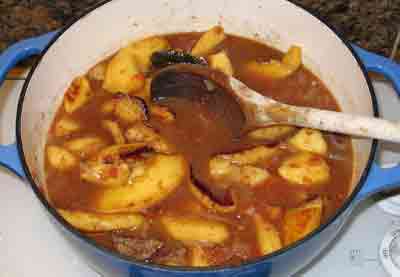 Serve with crusty bread to soak up the sauce. Leftovers freeze beautifully.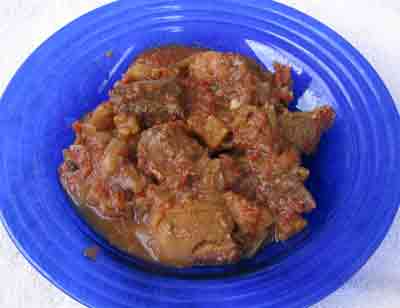 It's not glamous-looking, that's for sure, but the tartness of the quince makes it zingier than you'd expect. This is NOT a boring beef stew!